If sleep apnea is not diagnosed and treated, it can lead to significant complications, ranging from fatigue to an increased risk of cardiovascular diseases and a higher chance of getting into a traffic accident. Learn how sleep apnea is diagnosed.
The Epworth Sleepiness Scale
The Epworth Sleepiness Scale is not a diagnostic tool per se. It is a questionnaire used to measure your level of daytime sleepiness, which, in turn, indicates whether you are getting enough restful sleep.  
Sleep apnea test
Doctors use it on a preliminary basis to detect a possible sleep disorder, such as sleep apnea.
To take the test, you simply rate your chances of dozing off or falling asleep in the situations listed.
0: Would never doze off
1: Slight chance of dozing
2: Moderate chance of dozing
3: High chance of dozing                                
| SITUATION | 0 | 1 | 2 | 3 |
| --- | --- | --- | --- | --- |
| Sitting and reading.   |   |   |   |   |
| Watching TV. |   |   |   |   |
| Sitting, inactive in a public place (waiting room, theatre, class, meeting, etc.) |   |   |   |   |
| As a passenger in a car or public transit for an hour without a break  |   |   |   |   |
| Lying down to rest in the afternoon when circumstances permit  |   |   |   |   |
| Sitting and talking to someone  |   |   |   |   |
| Sitting quietly after a lunch without alcohol |   |   |   |   |
| Behind the wheel of a car, while stopped for a few minutes in traffic |   |   |   |   |
| Partial score  |   |   |   |   |
| Total   |   |   |   |   |
© M.W. Johns 1990-97 ─ epworthsleepinessscale.com
Even if you haven't been in one of these situations recently, try to imagine how you would react and rate your chances of dozing off. Answer each question as best you can.
Interpretation of results:
8-10 = mild sleepiness
11-15 = moderate sleepiness
16-20 = severe sleepiness
21-24 = excessive sleepiness
A score over 10 means you are experiencing an above-average level of sleepiness. See your doctor to find out if you need additional testing to determine whether you have a sleep disorder.
Diagnosing sleep apnea
For an accurate diagnosis of sleep apnea, you need to undergo a sleep study known as a polysomnogram (PSG). It assesses various aspects of sleep, such as the number of respiratory events and the amount of oxygen in the blood. A doctor's prescription is required for this test.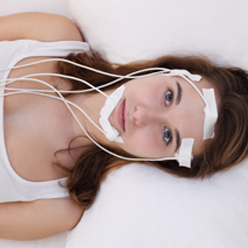 The PSG is done at a sleep clinic during an overnight stay. It involves placing sensors on the patient's head and other parts of the body to record the person's sleep.
The waiting list for this test is often quite long. As a result, doctors can also recommend the use of a sleep apnea screener to record your sleep patterns at home. Once the diagnosis has been confirmed, your doctor will prescribe a treatment based on the severity of your symptoms and their origin to help make your sleep more restorative.
As with many medical conditions, a healthy lifestyle (healthy diet, exercise, maintaining a healthy weight, quitting smoking, limited alcohol intake and good sleep habits) will also help to increase the effectiveness of the treatment and, of course, improve your quality of life.
Pharmacy services
Do you think you could have sleep apnea? Speak with your family pharmacist for advice on choosing an over-the-counter drug or natural health product to help you sleep.