There's a common misconception that spring and summer are, by far, the worst seasons for allergies. Yet allergies don't discriminate: they can strike any time of year. In fact, many people suffer from allergies all year long due to a variety of outdoor and indoor substances, known as allergens.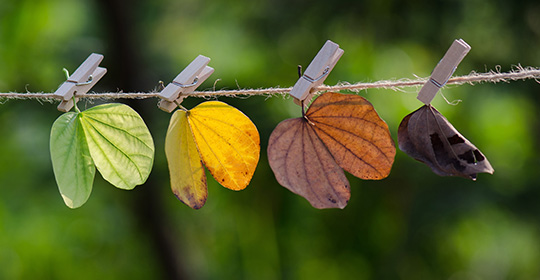 What are allergies?
In North America, millions of people experience allergies. An allergy is a reaction that occurs when the immune system becomes unusually sensitive and overreacts to common, normally harmless substances such as pollen, moulds, dust mites or pet dander.
Contact with the allergen produces a biological response that triggers the release of histamine and other inflammatory agents into the body. This, in turn, causes allergy symptoms involving the skin, respiratory tract (including the nose), throat, eyes and sometimes the ears, as well.
What is allergic rhinitis?
Allergic rhinitis is one of the most common illnesses in Canada. It is caused by inflammation of the nasal mucous membranes due to contact with allergens. It involves nasal symptoms typical of all allergies and strikes an estimated 15 to 20 percent of adults in Quebec.
Symptoms of allergic rhinitis include:
A runny nose
Frequent or repetitive sneezing
Watery or itchy eyes
Itching in the nose, throat or roof of the mouth
Nasal congestion and possibly plugged ears
What allergens cause allergic rhinitis?
Allergens can be divided into two main categories: indoor allergens (pet dander, dust mites and mould) and outdoor allergens (pollen from trees, grasses and weeds).
Allergies can be seasonal – occurring at certain times of year – or perennial – occurring year round. Seasonal allergic rhinitis, an allergic reaction to pollen from trees, grasses and ragweed, is sometimes called "hay fever" and occurs mainly from early spring to late fall, when these pollens are present in the air.
Perennial allergic rhinitis is caused by allergens that are present in a person's surroundings year round, such as dust mites, mould and pet dander.
Is it an allergy or a cold?
Unlike the flu or a cold, allergic rhinitis is not caused by a virus. Symptoms can look similar, but are, in fact, different. For instance, allergies usually cause a runny nose with clear discharge, whereas a cold will involve yellow nasal discharge.
In addition, fever, aches and pains are typical of the flu or a cold , while the most common symptoms of allergies are  excessive sneezing and watery, itchy eyes.
Another difference is that it usually takes a few days to get over a viral infection, but with allergies, the symptoms will last as long as you are exposed to the allergen. This is why some people can have allergies all year long.
Impact on quality of life
Although not life threatening, allergies can interfere with a person's normal functioning, well-being and quality of life. Allergic rhinitis is a common cause of missing work, sleep problems, fatigue and poor concentration.
Fortunately, there are many ways to reduce and ease symptoms of allergic rhinitis – both with or without the use of medication.  Start by getting the right information on the various strategies available and try them out to see which ones work for you. Remember that managing allergic rhinitis involves, first and foremost, knowing what your allergen is and eliminating it from your surroundings.
Pharmacy services
Are you bothered by allergies? Your family pharmacists can give you advice to reduce your symptoms and can recommend a product that will be right for you. Just ask!
They can also prescribe* medications for certain minor health problems, including allergic rhinitis, when the treatment and diagnosis have already been established. A consultation will be required so the pharmacist can make sure you meet the prescribing criteria.
To avail yourself of this service, you may need to book an appointment with your family pharmacist. Ask a member of the pharmacy team for more details. Some Uniprix-affiliated pharmacies also offer an online appointment booking service. To locate the store nearest you providing this service, click here.
*Certain conditions must be respected. Fees may apply. Ask a member of the pharmacy team for more information. Pharmacists alone are responsible for the practice of pharmacy. They offer related services only on behalf of pharmacist-owners.