Allergic rhinitis: Is it seasonal or perennial?
What is allergic rhinitis?
Allergic rhinitis is a common condition that involves inflammation of the nasal mucous membranes, sinuses and eyes. It is triggered by an overreaction of the immune system to an otherwise harmless substance, or allergen, such as pollen or dust mites.
There are two types of allergic rhinitis:
Nonseasonal or perennial allergic rhinitis, which lasts all year.
Seasonal allergic rhinitis, also called "hay fever" or seasonal allergies, which occurs at the same time every year.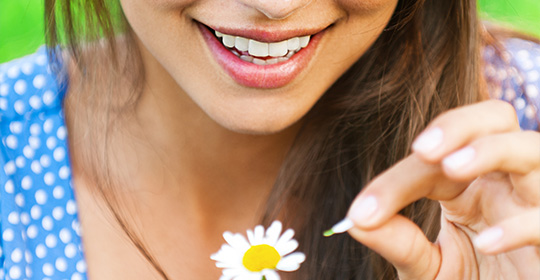 Allergy triggers and allergic susceptibility
The exact cause of allergies has not been identified at this point, but we do know that developing an allergy requires a certain (often hereditary) allergic susceptibility. Allergies can appear at any time, whether or not you have had them before.
Common allergens
Perennial allergic rhinitis is triggered by allergens that are present all year round in a person's home:
Dust
Dust mites
Dander (claws, hair, dandruff, etc.) and saliva from dogs and cats
Moulds
Seasonal allergies can be due to pollen from:
Trees, especially in the spring
Grasses, mostly present in the summer (grass, hay, wheat, corn)
Herbaceous plants, starting at the end of summer and in fall (ragweed)
Allergens enter the bloodstream through the skin, eyes, nasal passages and mouth. This triggers a defense response from the immune system: it releases chemicals, such as histamine and leukotrienes, causing the allergy symptoms.
Symptoms of moderate allergic rhinitis
Cold and allergy symptoms are quite similar, but unlike the common cold, allergies are not due to viruses. Most people with allergic rhinitis will experience some of these symptoms:
An itchy nose, eyes, throat and roof of the mouth
Runny nose
Fits of sneezing
Nasal congestion in varying degrees
Red eyes
Tearing of the eyes
Diagnosing allergic rhinitis
If you experience these symptoms and think you may be allergic to a particular substance, note the time and place when your symptoms are at their peak. This information will help to draw up a short list of possible culprits. Allergy testing can then be done by an allergist to pinpoint the precise source of your allergy symptoms.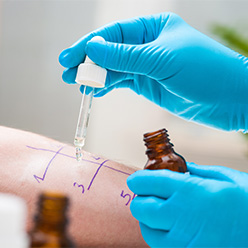 Preventive measures
To prevent or reduce allergy symptoms, avoid contact with your allergens and follow the advice below.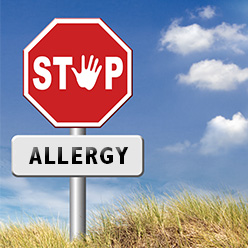 Dust mites:
Get rid of carpets and dust-collecting furniture, such as stuffed chairs.
Use plastic mattress covers.
Wash sheets, pillow cases and bedspreads in hot water every week.
Wash floors often.
Keep the ambient humidity level low.
Install a high-efficiency air filter.
Tree, grass and plant pollen:
Keep doors and windows closed.
Do not mow the lawn or go to places where your allergen can be found (e.g. parks, wooded areas.
Do not dry your clothes on the clothesline.
Wear sunglasses whenever you are outside.
Medication for allergic rhinitis
The most common medications used to reduce allergy symptoms can be divided into two categories: antihistamines and decongestants.
Oral antihistamines act on the entire body and reduce allergy symptoms as a whole, whether they are associated with seasonal and perennial allergic rhinitis. For best results, be sure to take antihistamines every day during the full allergy period. They help ease many symptoms, including sneezing, runny nose, tearing, prickly eyes and itching.
Decongestants relieve nasal congestion. Often used in combination with antihistamines (sometimes in the same product), they are available as syrups, tablets or nasal sprays.
There are also other prescription and non-prescription allergy drugs available at the pharmacy. Saline solutions, antihistamine eye drops and corticosteroid nasal sprays are a few examples.
Pharmacy services
Before choosing a specific product, be sure to ask your family pharmacists for advice. They can recommend the best medication for you based on your symptoms and state of health.
They can also prescribe* medications for certain minor health problems, including allergic rhinitis, when the treatment and diagnosis have already been established. A consultation will be required so the pharmacist can make sure you meet the prescribing criteria.
To avail yourself of this service, you may need to book an appointment with your family pharmacist. Ask a member of the pharmacy team for more details. Some Uniprix-affiliated pharmacies also offer an online appointment booking service. To locate the store nearest you providing this service, click here.
*Certain conditions must be respected. Fees may apply. Ask a member of the pharmacy team for more information. Pharmacists alone are responsible for the practice of pharmacy. They offer related services only on behalf of pharmacist-owners.
The pharmacy services presented in this section are offered by pharmacist owners who are affiliated with Uniprix. The pharmacists are solely responsible for the professional activities carried out during the practice of pharmacy. These services are offered in participating pharmacies only. Certain fees and conditions may apply.

* The information contained herein is provided for informational purposes only and is not intended to provide complete information on the subject matter or to replace the advice of a health professional. This information does not constitute medical consultation, diagnosis or opinion and should not be interpreted as such. Please consult your health care provider if you have any questions about your health, medications or treatment.