The warm weather is here, and this means allergy season is back. Watery eyes, fits of sneezing and a stuffy nose are just some of the annoying symptoms that await seasonal allergy sufferers. Luckily, solutions are at hand. Here are a few.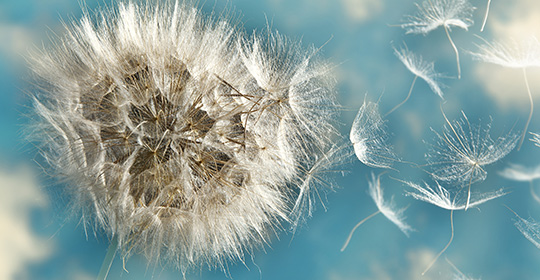 What are seasonal allergies?
Allergies are an exaggerated response of the immune system to an otherwise harmless substance. They can come in several forms and varying degrees of intensity. In some cases, allergies are associated with a related medical condition, such as asthma, atopic dermatitis (eczema). Allergic rhinitis is the most common form.
Seasonal allergic rhinitis is generally caused by pollen from shrubs, grasses and weeds, such as ragweed.
What is involved in seasonal allergies?
During an allergic reaction, the body releases a protein, called histamine. Histamine causes several reactions, including the contraction of the bronchial tubes and the dilation of the small arteries. This, in turn, triggers a host of symptoms of varying intensity, including:
Coughing and sneezing
Runny nose or nasal congestion
Itchy nose and roof of the mouth
Red, irritated eyes
Itchy eyes
Tearing
Headaches
Worsening of asthma
Getting a handle on allergy symptoms
To minimize your symptoms, you will need to limit your exposure to your allergen. You can do this by following these simple tips during allergy season, which can run from April to October:
Keep windows closed and use air conditioning in your home and car.
Do not dry your clothes outside on the clothesline.
Practise your outdoor activities in the afternoon, when the pollen index is at its lowest. The concentration of pollen is highest in the morning, on windy days and on sunny days. Check the Weather Network for the pollen forecast for your area.
After an outdoor activity, take a shower and wash your hair to remove all traces of pollen from your body.
Flush out your nasal passages with a saline solution every day . This will help ease nasal congestion and a runny nose by eliminating some of the pollen in the nasal membranes.
Do medications actually work?
If you're bothered by allergy symptoms, you'll find many highly effective medications at the pharmacy. Here are a few:
Oral antihistamines
Oral decongestants
Topical decongestants
Eye drops
Corticosteroid nasal sprays
As with all over-the-counter drugs, it is always best to ask your family pharmacists for advice before taking allergy medications. They can tell you how these products work, how to use them and if there are any side effects, contraindications and precautions involved.
They can also prescribe* medications for certain minor health problems, including allergic rhinitis, when the treatment and diagnosis have already been established. A consultation will be required so the pharmacist can make sure you meet the prescribing criteria.
To avail yourself of this service, you may need to book an appointment with your family pharmacist. Ask a member of the pharmacy team for more details. Some Uniprix-affiliated pharmacies also offer an online appointment booking service. To locate the store nearest you providing this service, click here.
Pharmacy services
If you suffer from seasonal allergies, your family pharmacists have many tips and great advice to help. Feel free to drop by and talk to them.
*Certain conditions must be respected. Fees may apply. Ask a member of the pharmacy team for more information. Pharmacists alone are responsible for the practice of pharmacy. They offer related services only on behalf of pharmacist-owners.