How to choose the right sunscreen
Choosing the right sunscreen may not be as easy as one thinks. UVA, UVB, SPF, photostabilty and water resistant: these are just some of the terms you're likely to encounter. Let's try to clear things up!
How does sunscreen work?

No matter the format - cream, spray, stick – your sunscreen protects you from the harmful sunrays and prevents them from penetrating your skin. When choosing a sunscreen, it's a good idea to look for certain characteristics in order to select a product that best meets your needs, both in terms of protection and ease of use.
 
What is the difference between UVA and UVB rays?
The sun's ultraviolet (UV) rays can damage skin in a number of ways:
Your sunscreen must therefore protect against both UVA and UVB rays.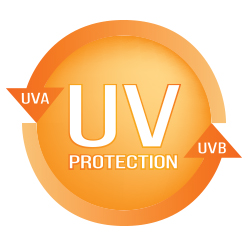 What does FPS mean?
For UVB protection, look for the SPF (Sun Protection Factor), which indicates the level of protection provided against these rays. The Canadian Dermatology Association (CDA) recommends choosing a product with an SPF of at least 30. While sunscreens with a higher SPF offer slightly more protection against UVB rays, the gains are minimal:
SPF 30 provides 96% protection
SPF 60 provides 98% protection
SPF 100 provides 99% protection

Warning: A higher SPF does not provide longer protection!
 
How to protect myself from UVA rays?

There is no protection factor against UVA rays. To ensure that the sunscreen provides UVA protection, look for the words "broad spectrum" or the UVA logo on the label. The CDA logo on a product is your guarantee that the product offers optimal protection.
 

What's the difference between a mineral and a chemical filter?
In order to provide effective protection against UVA and UVB rays, sunscreens contain different substances known as filters. There are two types of filters—mineral and chemical.
Mineral filters consist of zinc oxide or titanium dioxide powder that is mixed with other ingredients to create a product that is easy to apply to skin. They form a protective barrier on the skin's surface that reflects UVA and UVB rays.
Chemical filters are substances that interact with UVA or UVB rays, rendering them harmless for the skin. These include Meroxyl, Tinosorb, and avobenzone. Since the ability to block UVA and UVB rays varies from one filter to another, more than one chemical filter is sometimes required in a single sunscreen to provide optimal protection against all UVA and UVB rays.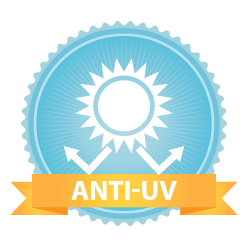 Water resistance: a must for sports enthusiasts
One of the most enjoyable things about summer is going for a swim or doing your favourite sport outdoors on a nice sunny day! However, these activities can really put your sunscreen to the test and leave you vulnerable to the harmful effects of the sun.

Be sure to use a sunscreen that is water resistant. The water resistance rating (40 or 80 minutes) is indicated on the label. But keep in mind that while it may be water resistant, that doesn't mean it's towel resistant! If you dry off with a towel, you will remove the sunscreen and will need to reapply, even if you haven't yet reached the water resistance limit.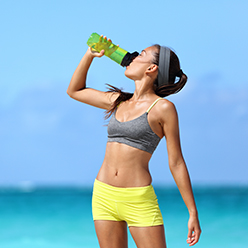 Beyond protection: ease of application and textures
Sunscreens come in a range of textures to meet different needs.
Creams and lotions of varying textures: versatile, and can be applied all over the body, including on the face
Mists (sprays): convenient and quick for covering large areas of skin, but be sure to rub them in by hand so the skin is well covered. Do not spray directly on the face. Rather, spray a little in the palm of your hands, then apply to face. Make sure you are out of the wind when applying spray.
Sticks: convenient for the face, because the product is solid, which reduces the risk of it getting in your eyes.​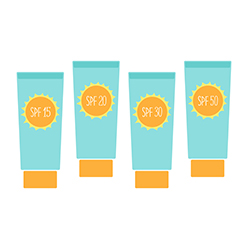 To find the right texture for you, ask one of our beauty consultants to show you the different products and textures available.
 
In the Spotlight: La Roche Posay products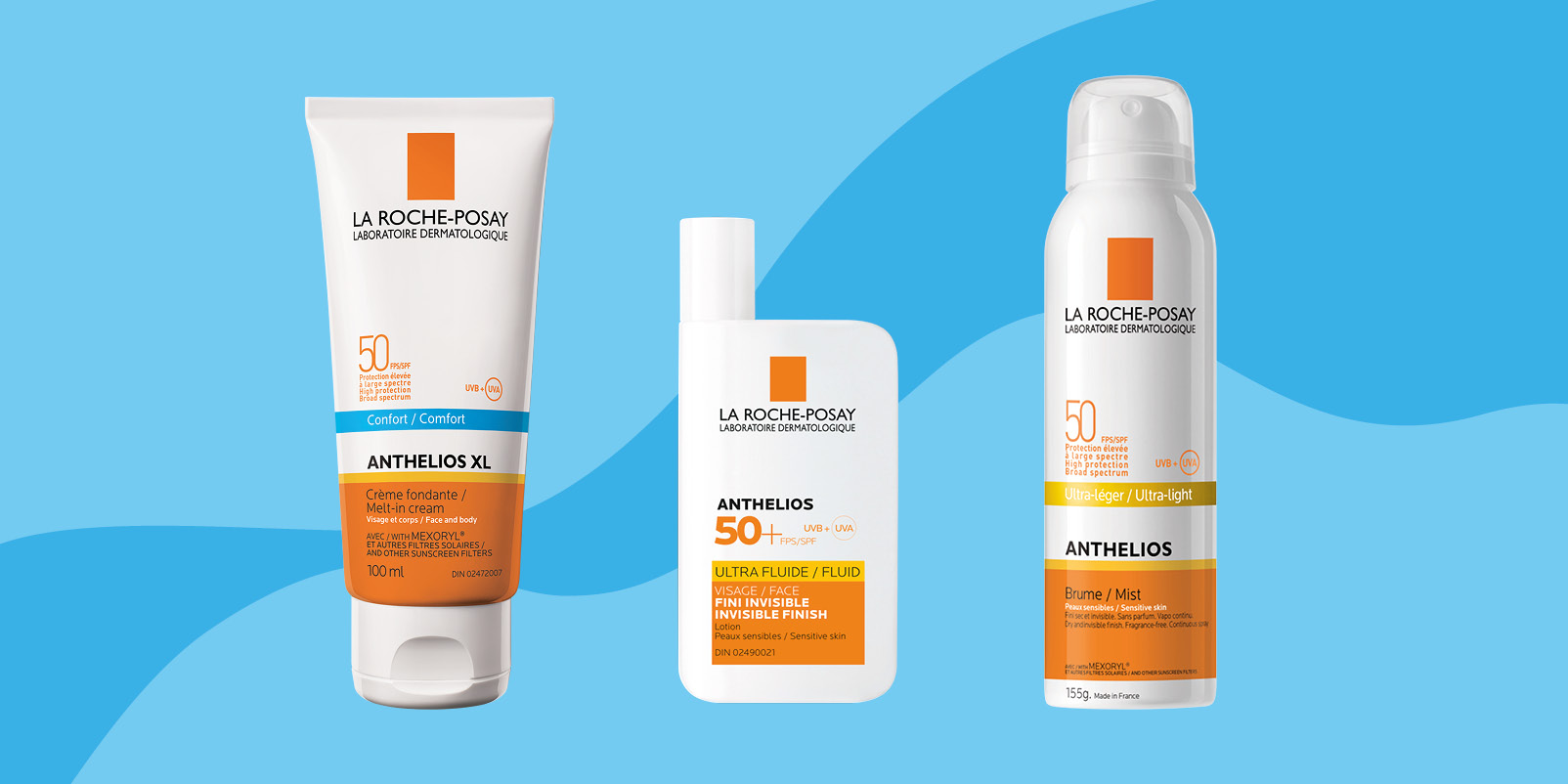 La Roche Posay offers advanced UVA/UVB protection in a variety of textures for all your family members with sensitive skin:
ANTHELIOS MINERAL TINTED ULTRA-FLUID LOTION SPF 50: An ideal addition to your beauty routine. Ultra-fluid tinted lotion with a wonderfully light texture that penetrates quickly, leaving a smooth matte finish. Tinted formula for a natural glow and uniform complexion
ANTHELIOS XL MELT-IN CREAM SPF 50 – New formula: Quick-absorbing, comfortable, and non-greasy cream that leaves skin soft and velvety to the touch
ANTHELIOS MIST SPF 50: Ultra-light texture with an invisible finish and dry touch. Refreshingly light, non-greasy mist that penetrates quickly, leaving skin dry and clean
To find the right texture for you, ask one of our beauty consultants to show you the different products and textures available.
Which ingredients should I avoid if I have sensitive skin?

Filters, whether mineral or chemical, are generally well tolerated and cause very few unpleasant reactions. It's the inactive ingredients like fragrance that are more likely to cause skin irritation.

If you have sensitive skin, make sure your sunscreen contains no parabens or fragrance. You should also look for the following wording on the label:
hypoallergenic
For sensitive skin
non-comedogenic (for acne-prone skin)
Tip: Before slapping on sunscreen over your entire body, always do a spot check on a small patch of skin to be sure you don't react to the product.
La Roche Posay products are fragrance-free and paraben-free, and are formulated for sensitive skin (hypoallergenic).
Sun protection for children and infants

Babies have very fragile skin. Before the age of six months, their skin has not yet developed any defenses against the sun's rays, which means it is essential to protect your little one by dressing them in long clothes and a wide-brimmed hat. Keep your infant out of the direct and indirect rays of the sun. If possible, avoid all outdoor activities with your baby between 11 a.m. and 3 p.m., especially around noon.
Avoid using sunscreen on babies below the age of 6 months. If you are unable to avoid exposing your baby to the sun, apply a small amount of zinc oxide or titanium dioxide–based mineral sunscreen to his or her skin. Be careful not to get any too close to the eyes or mouth.
After the age of six months, apply sunscreen on any exposed skin every time your infant goes outside. Ensure that the sunscreen meets the same criteria as those for sensitive skin (listed above).
There are a number of sun protection products designed specifically for children, including ANTHELIOS DERMO-KIDS LOTION SPF 50, a sunscreen tested under the supervision of pediatricians and dermatologists. It contains no fragrance or parabens, and has a water resistance rating of 40 minutes.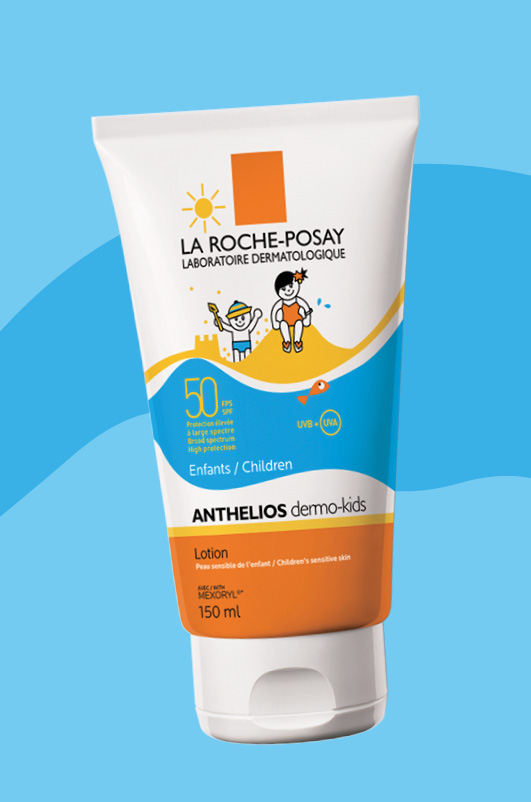 Application tips

For maximum efficacy, it's important to use enough sunscreen. It takes about 30 mL of cream or lotion to cover an adult's entire body.
Do not apply sunscreen to wet skin.
Remember to apply sunscreen on your hands, ears, back of the neck, and top of your feet.
Protect your lips with a lip balm with an SPF of at least 30.

If you stay out in the sun, you'll need to reapply sunscreen. No product provides all-day protection! Reapply every two hours, or more frequently if you've been sweating or in the water, or if you've dried off with a towel.
If you have questions about sun protection, talk to your beauty consultant. They're here to help!
The information contained herein is provided for informational purposes only and is not intended to provide complete information on the subject matter or to replace the advice of a health professional. This information does not constitute medical consultation, diagnosis or opinion and should not be interpreted as such. Please consult your health care provider if you have any questions about your health, medications or treatment.