Over the past 20 years, the skin cancer rate in Quebec alone has increased at an alarming rate. It's time to get the word out about this type of cancer, its symptoms and, most importantly, what we can do to prevent it.
Types of skin cancer
There are two types of skin cancer: melanoma and non-melanoma (also called carcinoma). The latter represents 90 percent of cases and can normally be treated very successfully.
Although not as common, malignant melanomas are undeniably the most dangerous form of skin cancer. In fact, they account for approximately 75 percent of all deaths associated with this disease.  
Skin cancer risk factors
People who expose themselves to the sun excessively run the risk of having skin cancer at some point in their lives. Other factors that increase a person's risk include:
Being over 50 years old
Having fair or freckled skin or many moles
Having had a severe sunburn in the past
Having a family history of skin cancer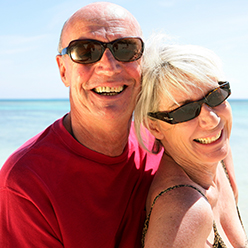 Symptoms of skin cancer
Most cases of skin cancer can be cured if diagnosed and treated in the early stages of development. This is why being able to recognize the symptoms of the disease is so important.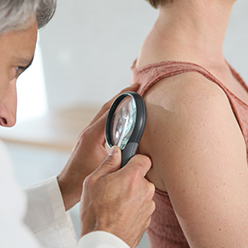 Skin cancer often develops on the most sun-exposed areas of the body, such as the face, neck, hands and arms. The most common symptom is a sore that does not heal. The presence of oddly coloured spots is another telltale sign that should not be ignored.
Moles should be examined on a regular basis. Changes in colour, size or shape and any bleeding or dryness should be immediately reported to your doctor.
Skin cancer prevention
Simple measures can be taken to prevent the risk of skin cancer. Here are the recommendations:
Stay in the shade, especially between 11:00 a.m. and 4:00 p.m., all year, but particularly from April to October.
Use a sunscreen with an SPF factor of at least 30 that blocks both UVAs and UVBs. (Don't forget to apply it 30 minutes before going outside and to reapply after swimming or perspiring heavily).
Wear a hat with a wide brim, loose-fitting cotton clothing and sunglasses that block UVA and UVB rays.
Keep children in the shade, especially babies younger than 12 months old, making sure to protect them using a sunscreen with a high SPF.  You should not use sunscreen on babies younger than 6 months old.
Pharmacy services
Do you have questions about skin cancer and the ways to prevent it? Do you need help in choosing the right sunscreen? Just ask your family pharmacist!