Try LPG anti-aging skin care products now available exclusively at Uniprix! Formulated with a high concentration of active ingredients, they can be used on their own or in combination with Daniele Henkel to go anti-aging treatments.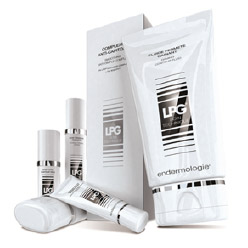 The skin aging process
Our skin is a precious asset that needs proper care. Three factors determine its level of health: diet, moisture and stimulation.
Unfortunately, skin is constantly being exposed to the harmful effects of UV rays, harsh climate, pollution and, of course, the body's inevitable aging process.
LPG products help to minimize the appearance of skin aging, including brown spots, wrinkles, loss of elasticity and firmness, dehydration and reduced radiance.

Use alone or with anti-aging treatments
LPG offers a tailored skin care solution for every type of skin aging. Use the products on their own at home or in combination with Daniele Henkel to go treatments offered in stores for a 50 percent increase in effectiveness*.
*Humbert P. et al. Evaluation of the potentiating effect of a cosmetics line combined with lift massage treatment. Study conducted on 10 healthy subjects treated on half of their face. 2014 Report.

With their high concentration of active ingredients inspired by biotechnology, LPG products stimulate the body's natural physiological activity and deliver visible results.
Collagen synthesis for firmer skin
Elastin synthesis for more supple skin
Hyaluronic acid for smoother, replenished skin
Plus, all products are free of paraben and phenoxyethanol.
Tensing and firming cream – Targets sagging
Recommended for problems related to sagging skin. Apply this rich, non-oily emulsion to cleansed face and neck, morning and night.
Instantly lifts
Firms facial contours
Reduces the look of wrinkles
Replenishing and redensifying cream – Targets hollowing
Recommended for skin that tends to become hollow with age. Apply this "mousse" moisturizer with textured effect, morning and night on cleansed face and neck.
Enhances volume
Adds density and fullness
Restores plumper-looking skin instantly
Global sculpting cream – Targets thickening
Indicated for thickening skin. Apply the fluid morning and night to cleansed face and neck.
Refines the face and helps slim the look of double chin
Firms the contours of the face
Radiance energizing serum
Use this serum morning and night on cleansed face and neck as the first step in the LPG beauty regimen.
Restores glow and clarifies the complexion
Reduces brown spots
Diminishes the appearance of wrinkles
Total eye care
This rich, slightly tinted cream is formulated for the eye contour area. Gently apply underneath the eye, moving from the inner to the outer corner.
Diminishes puffiness
Reduces dark circles
Fights lines and wrinkles
Pharmacy services
For more valuable tips, speak with your Uniprix beauty consultant. She will be more than happy to help! Only at participating stores.
Looking for more helpful health and beauty tips? Interested in receiving special offers? Click here and sign up for our newsletter today!