When it's hot out, it's not unusual to see pesky blackheads show up uninvited. Learn how to banish them.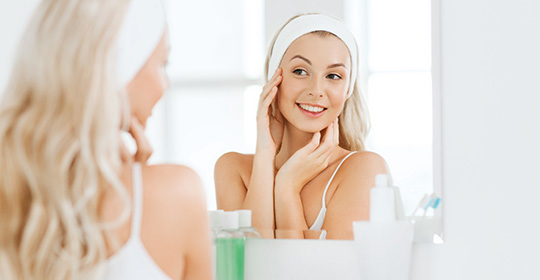 Black heads
You don't even have to have a problem with acne to get black heads. They develop when pores are overrun with sebum (oil), which then oxidizes and turns black when exposed to air.
Blackheads generally affect the face – chin, forehead, nose and cheeks – but they can also pop up on other body parts, such as the back, where excess oil production is sometimes a problem.
So how do you nix  these annoying little spots? Unfortunately, there's no magic formula. But with the right beauty routine and a bit of discipline, you may be able to minimize the problem. Here's what you need to do.
Prepare your skin
Makeup removal and cleansing : A must, morning and night, for all skin types.
Exposure to environmental factors (pollution, heat, humidity, sweat) can lead to more frequent blackhead breakouts. A proper cleansing, morning and night, is crucial to eliminate all traces of makeup, bacteria dirt and excess sebum found on skin. Ideally, finish by rinsing with cold water to keep pores closed and squeaky clean. Gently pat your skin dry with a soft towel. Follow with toner and moisturizer. Then, a few times a week, go for a deeper cleansing.
Exfoliation : Two to three times a week to eliminate impurities and dead skin cells.
To prevent blackheads and keep them from coming back, use a gentle homemade or store-bought exfoliant. There are plenty of options available on the market.
Extracting blackheads
After a thorough cleansing, you are now ready to start removing visible blackheads. These special treatments can help.
Steam facial. There are several different methods, but all involve dilating the pores by exposing your face to warm steam. Once your skin is well moistened, you can begin extraction. To do so, wrap your fingers in facial tissue or cotton pads and apply gentle pressure around the blackhead. For deeper ones, a blackhead extractor is recommended.
Masks. Your options are almost limitless! Self-heating masks are particularly effective at removing excess sebum and dead cells.
Strips. Adhesive strips are another useful way to remove oil and impurities from the forehead, nose and chin.
What else? Try essential oils*
Essential oils each have their own distinct features and cosmetic benefits. Here are a few suggestions that can work for blackheads.
As a toner: Try a lavender, rosemary or witch hazel hydrolate.
As a mask: Choose fruit acid peels.
In your exfoliant: Add rosewood, geranium, lavender or grapefruit essential oil.
For blemishes: Apply hazelnut oil mixed with tea tree oil (an oil from an Australian tree).
A day cream with a boost: Put your regular dose of moisturizer in the palm of your hand and mix in two drops of rosemary essential. Apply as usual.
*WARNING: Some essential oils must not be used during pregnancy. Consult your family pharmacist or doctor before using these products.
Pharmacy services
To learn more about products specially formulated to eliminate blackheads or for additional information on products suited to your skin type, drop by and speak with your Uniprix beauty consultant.
Looking for more helpful health and beauty tips? Interested in receiving special offers? Click here and sign up for our newsletter today.