Over two million Canadians are affected by rosacea, a chronic inflammatory condition of the skin. Learn more about this disease and the factors that can aggravate it.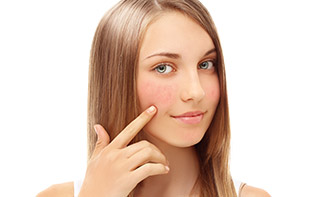 Quick facts about rosacea
Rosacea is a skin condition that causes redness, primarily of the facial skin – cheeks, nose, chin or forehead. At first, this redness can come and go, but as time progresses, it becomes more pronounced and lasts longer. It may also affect the ears, chest and eyes. Other signs of rosacea include:
Visible dilated blood vessels
Facial burning and itching
Tiny bumps (similar to pimples)
Rosacea cannot be cured, but it should still be treated to ensure it does not worsen. If you think you have rosacea, make sure you consult a health professional.
There are four types of rosacea:
Benign (erythematotelangiectatic)
Moderate (papulopustular)
Severe (phymatous)
Ocular
Causes and triggers
Researchers have yet to pinpoint the exact causes of rosacea, but they believe a combination of environmental and genetic factors may be involved. Commons factors that can trigger or aggravate rosacea include:
Cosmetics formulated with irritating ingredients, such as perfume, alcohol or abrasives.
Spicy foods, hot drinks, caffeinated beverages, alcohol (particularly red wine).
Intense physical activity. To remedy this problem, keep your workouts short, exercise when temperatures are cool and splash cold water on your face.
Various drugs, such as vasodilators (to open blood vessels) and some cholesterol medications (e.g. niacin) as well as cortisone creams used on the face for prolonged periods of time.   
If you think your medicine could be a rosacea trigger for you, continue with your treatment and talk to your pharmacist about it.
Stress and strong emotions. To get this trigger under control, eat well, get sufficient sleep, exercise and practise relaxation activities.
Extreme temperatures (hot or cold), wind and exposure to UV rays. Make sure you use a sunscreen of 30 SPF or more and avoid sun exposure between 11 a.m. and 4 p.m.
Pharmacy services
Do you have questions about rosacea? Speak with your family pharmacist for answers and information.