For fresh, glowing skin every day, you need a good beauty routine!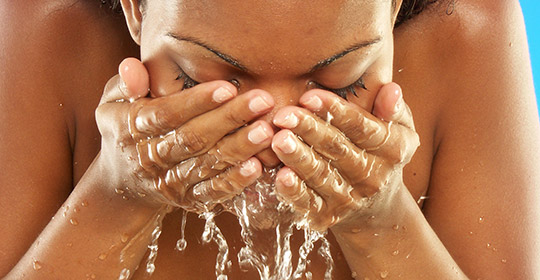 The evening routine
Here are the products you'll need for your evening routine:
Eye makeup remover
Cleansing milk
Toner
Nourishing night cream
Cotton pads
There are 4 steps to a good evening routine.
Step no. 1: Remove makeup
Start by pouring a generous quantity of eye makeup remover on a cotton pad.  Close your eyes, apply the pad over your eyelids and hold for at least 30 seconds to allow the makeup remover to saturate your lashes and eyelids in order to dissolve as much makeup as possible. Once the makeup has dissolved, wipe it off by gently gliding the cotton pad over your lids and lashes in an up-and-down motion.
If you use waterproof mascara, you'll need to use an oil-based makeup remover.
Step no. 2: Cleanse
Once you have removed your eye makeup, you will need to cleanse the rest of your face. Simply apply the cleanser in a circular motion and remove any excess. Ideally, you want to choose a cleansing milk, since it removes impurities without upsetting the balance of your skin.
If you're in a hurry, try makeup removal cloths. They're quick and they work wonders.
Step no. 3: Tone
Apply a small quantity of toner on a damp cotton pad and gently glide over your face. Toner is the best product to eliminate any remaining cleanser residue. It also refreshes and softens skin.
Step no. 4: Nourish
Place a small quantity of night cream into your palm and rub hands together to release the active ingredients. Start at the neck, moving up and down, then from the centre of your face to the outer edges. As you sleep, the night cream will meet the needs of your skin and replenish its level of moisture.
The morning routine
If you cleansed your face well the night before, your morning routine should be a breeze. It helps to purify your skin and improve the action of your day cream.
Here are the products you'll need for your morning routine:
Step no. 1: Refresh
To refresh your skin in the morning, thermal water is the product of choice. Spray a thin mist over your face and allow to dry. Thermal water is a great way to reduce redness and minimize skin irritation.
Step no. 2: Protect
Follow with your day cream to protect and moisturize your skin. Apply it using the same method as you used for the night cream. Choosing the right cream is extremely important; it must match your skin type, whether oily, combination or dry.
Now that it's well cleansed and pampered, your skin will stay fresh and healthy looking!
Pharmacy Service
Ready for personalized advice? Visit the Uniprix location nearest you today. One of our beauty consultants will be happy to help you.