Your dream wedding dress fits like a glove. Your bouquet is fabulous; your accessories, subtle; your shoes, feminine. Now it's time to put together the perfect beauty kit for the big day.
Makeup: Natural or glam?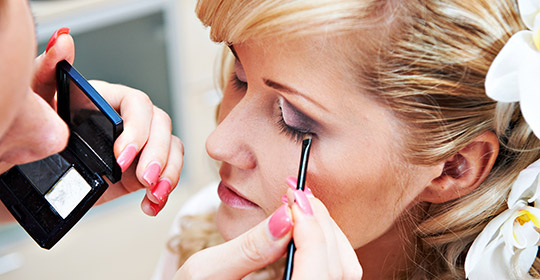 Most brides opt for a simple, natural look and add a few touches of dazzle here and there. However, some decide to be more daring and choose the ultra-seductive smokey eye, for example.
The important thing is to make sure your makeup matches your style, your personality and your dress. That's why you should do a few trial runs before the big event.
The essentials
When it comes to creating a gorgeous look that will stay put for hours and bring out your best features, you'll want to have certain cosmetics on hand.
Primer for face and eyelids
Smooth over face and eyelids before applying makeup. Primers help extend the hold of other cosmetics and even out the complexion.
Concealer
Apply concealer starting from the inner corner of the eye, moving outward. Concealer can also be used to hide redness, blemishes and other minor flaws.
Long-wear foundation (12 to 14 hours)
Loose powder
Try a light-reflecting powder in an easy-to-carry compact. Use it to touch up your makeup throughout the day.
Blush in a pearly or satiny finish
Make sure it matches your lipstick.
Black lengthening, curving or volumizing mascara
To avoid the raccoon look should you shed a few tears on your big day, select waterproof mascara.
Eyebrow shadow
Go for a matte hue that matches your eyebrow's natural colour. (Well-groomed, well-shaped eyebrows will structure your face and highlight your eyes.)
Take the time to choose the right shade. Your best bet is a long-wear lipstick. Use it with lip liner to further extend its hold.
Makeup setting mist
Apply when makeup is complete. It will boost the hold of other products for hours.
The extras
To up the glam factor a bit, you can also add these articles to your beauty kit.
Bronzing powder
Apply sparingly to the forehead, nose, chin, cheekbones, temples and décolleté.
False lashes
Select lashes that come in strips. They are easier to apply and give more natural results.
Portable beauty kit basics
On D-Day, pack a mini beauty kit for last-minute touch-ups. You'll need:
Paper tissues
A comb
Bobby pins
Travel-size hair spray
Blotting papers (to eliminate shine and freshen your complexion)
Spray mist
Loose powder
Blush
Lipstick
Pharmacy services
Need help choosing your products? Drop by to meet our beauty consultants. They can steer you in the right direction.