Synergy Color: Permanent, ammonia-free hair colour
Are you a fan of at-home hair colouring? You'll be delighted to learn that you can now purchase permanent, salon-grade, ammonia-free hair colouring products at the Beauty Boutique of your local Uniprix.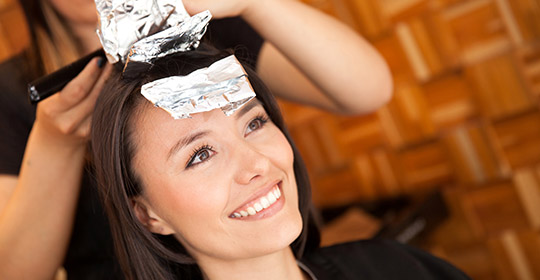 Ammonia and paraphenylenediamine
Ammonia and parawhat? Ammonia and paraphenylenediamine (pPd) are chemicals found in most store-bought and salon hair colouring products. Here is what these ingredients do.

In hair colour, ammonia acts as a catalyst to accelerate the dye's chemical reaction and opens the cuticle layer of the hair to allow the colour to penetrate. It is also used to bleach hair. However, not only is ammonia very harsh on your hair, it can also lead to skin or allergic reactions (redness, itching, eczema) in some people or trigger minor respiratory irritation (tingling in the nose and throat).

As for pPd, it has exceptional properties in terms of stability and high resistance, but it is also a known skin allergen that can cause blisters, redness and itching.
Synergy Color, the solution you've been waiting for!
Do you have a sensitive scalp or weakened, brittle hair? Are you allergic to ammonia or pPd? Or maybe you regularly subject your hair to chemical treatments (e.g. perms, relaxers)? If so, this hair colour is for you!
Synergy Color by Echosline is the first permanent, professional and ammonia- and pPd-free hair colour offered in drugstores. Formulated with keratin, Argan oil, linseed oil and silk proteins, Synergy Color:
Gently dyes your hair
Provides perfect coverage of grey  
Does not fade over time
Releases a pleasant scent
Boasts a lineup of 24 shades
Comes in a creamy, drip-free formula
For optimal results and easy application, use with the Echosline synergic cream activator.
Pharmacy services
To learn more about the Synergy Color product line, talk to your Uniprix beauty consultant. She'll be more than happy to help!