My first makeup kit: The basics
You want to wear makeup, but you're not sure which products to choose? And, of course, you want to avoid making beauty faux pas . We hear you! In this article you will find valuable, easy-to-follow advice on the art of applying makeup.
 Content of your first makeup kit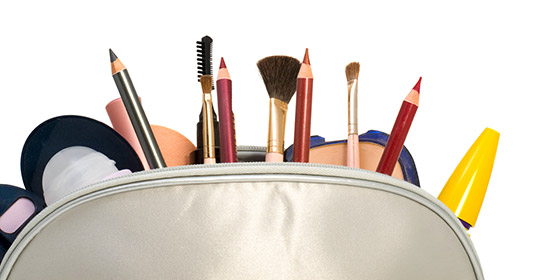 Your first makeup kit should contain: 
• Tinted moisturizer
• Liquid concealer
• Pink blush
• Blush brush
• Bronzing powder
• Eyebrow pencil with built-in brush
• Eye shadow pencil
• White eye shadow
• Light gloss, and
• Brown-black lengthening mascara
 With these products you'll be able to do your makeup in minutes and get a look that suits your age and style.
 Step-by-step makeup application 
1) Complexion
To start, apply tinted moisturizer to your entire face. You can also use an unscented BB cream that's non-comedogenic. BB cream is great to correct, enhance and even out the complexion. 
2) Imperfections 
 Choose a liquid concealer that matches your skin tone. Gently dab small dots of the product to the under-eye area. Blend with your fingers using a light tapping motion. Be very gentle: the under-eye area is fragile . 
 Good to know!
 You can also use concealer to mask blemishes . 
3) Cheeks
 With a large brush, take a bit of powdered blush and apply it to your cheekbones. Don't use too much or you'll end up looking slightly clown-like. You can also apply bronzing powder to the parts of your face that naturally attract light: your forehead, nose, chin and cheeks. This will give you a sun-kissed glow.
 4) Eyes 
 Using the eyebrow pencil, outline and fill in your eyebrows and blend in the colour using the brush. Then, take the eye shadow pencil and run it over your eyelid. To brighten your eyes, apply a touch of white eye shadow to the inner corner of your eye. Add a bit of lengthening mascara, and you're done.
 5) Lips 
Finish off your makeup routine with a bit of lip gloss . Congratulations! You have just completed Makeup 101! 
Pharmacy services
 Need help choosing the right products? You can always ask one of our beauty consultants. She'll be happy to give you a hand.
The information contained herein is provided for informational purposes only and is not intended to provide complete information on the subject matter or to replace the advice of a health professional. This information does not constitute medical consultation, diagnosis or opinion and should not be interpreted as such. Please consult your health care provider if you have any questions about your health, medications or treatment.