To be complete, your makeup bag should contain a variety of brushes. Which ones are essential? Here is a list of the brushes you should not go without!
Brushes to add to your makeup bag!
When you shop for makeup brushes, choose high-quality tools made with natural bristles that are securely attached to the handle. Buy them one by one; no need to rush. Take the time to evaluate your needs and select your products accordingly.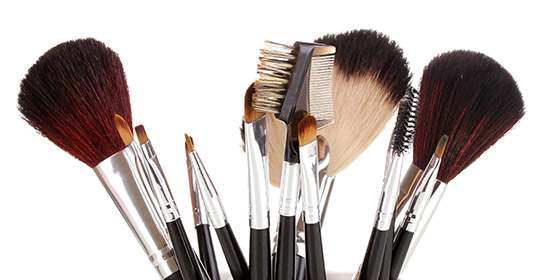 - Powder brush
This thick brush is used to apply loose or pressed powder. It has soft bristles and a rounded tip. 
- Blush brush
Its bristles are denser than those found on the powder brush, making it easier to apply blush with precision.
- Eyeliner brush
This fine-tip brush is used for the ultra-precise application of eyeliner along the upper and lower lashes. 
- Flat and angled eyeshadow brush
This brush is perfect for creating well-defined makeup looks and layering various colours.
- Lip brush
This narrow brush adds great lip definition for a flawless finish.
Good to know!
Never share your brushes with others, not even your girlfriends or daughters. Just like a toothbrush, makeup brushes are highly personal items. Keep them for yourself!
Pharmacy services
Need help choosing your brushes and the products to keep them clean? Just talk to one of our beauty consultants: they can point you in the right direction!