Fun beauty apps to try!
Whether you own an iPhone or Android device, you'll find scores of beauty apps to try out and play around with. Share them with friends and you're sure to enjoy a few laughs and giggles.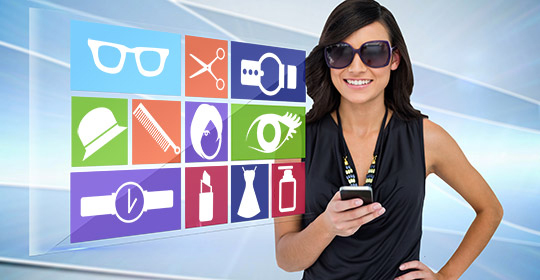 So many apps, so little time!
The App Store and Google Play feature dozens and dozens of apps dealing with all things beauty – from makeup to hair, nail art and fashion.  
Some cosmetic brands even offer their own app, which, for instance, can help you match the shade of your makeup to your outfit, (e.g. The Color Genius by L'Oréal Paris for iPhone and Android). Here's a quick rundown of a few other fun apps you might like.
Mirror, mirror…on my smartphone
Always be at your best thanks to the mirror app. Once you install it on your smartphone, you will have a pocket mirror handy at all times. Fix your makeup, put in your contacts, check your smile (hold the spinach, please!) and get up close and personal with a digital zoom feature. Some mirror apps even let you take screenshots and post them on social media.
@ Mirror on App store/Mirror on Google Play
Blonde, brunette or redhead?
Is fear holding you back from changing your hair colour? Test a new hue without the risk. With the Hair Color app, you get to see the results in seconds. Just snap a picture of yourself using your smartphone, draw the contour of your hair and pick the hair colour you want to try. Happy with what you see? Share your potential look on social media and get working on it!
Hair color, on App store/Hair color studio on Google Play
Long or short? Curly or straight? Coloured or natural?
Looking for a new hairstyle? Having trouble making heads or tails of all the different options out there? Why not test them all? With Hairstyle Lite, you can! Simply take a photo of yourself and select the style you love most.
Hairstyle Lite+ on App Store/ Hairstyle Swap LITE on Google Play
A nail bar all to yourself!
Design your own manicure with Virtual Nail Salon! This cool app lets you sample a variety of different nail colours, patterns, ornaments and even dazzling rings on a photo of your own hand. A nail bar at your disposal! And you can share your designs with friends. 
Virtual Nail Salon on App Store and Google Play
Virtual makeover
All of us have dreamed of getting a complete makeover. Now you can, as many times as you want! There's an app with various features that let you touch up your photo and experiment with different makeup looks (mascara, eye shadow, lipstick, blush, etc.) and celebrity hairstyles. Play the before-and-after game and ask your online friends to weigh in on your new looks. Who knows, you might discover your true style!
Virtual Makeover on App Store and Google Play
Pharmacy services
Ready to put your new beauty knowledge into action? Come and speak with your beauty consultant. She will be more than happy to help you find all the products you need.   
Looking for more helpful health and beauty tips? Interested in receiving special offers? Click here and sign up for our newsletter today!