Professional makeup artist, turned Youtube partner, turned blogger Cynthia Dulude is a leading reference in makeup! Here is her suggestion for a gorgeous, runway-inspired makeup look!  
Straight from the catwalk
The latest monochrome trend in makeup comes in lovely shades of pastel. Hues of pink and lilac are some of the go-to colours used to create a fresh, glowing complexion.
Celebrate your beauty and femininity with a romantic, easy-to-achieve look created specifically for women in their 20s.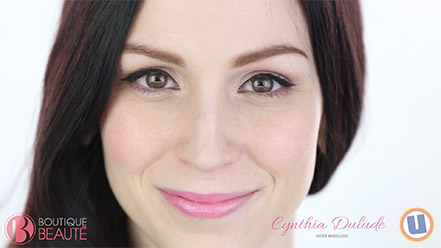 Complexion
Before moving forward with the makeup, prep your skin by applying toner to your face, followed by a moisturizer suited to your skin type. As for makeup, the rule of thumb is to keep it light.
Start by evening out your complexion with BB cream.
Erase darker circles beneath the eyes with a touch of concealer.
Illuminate your complexion. Simply apply a skin illuminator to the highest points of your face, like the cheekbones, bridge of the nose and Cupid's bow.
Highlight your cheekbones with pink blush. Just smile and sweep the brush over each cheek.
Set your makeup with a hint of mineral powder.
Eyes
With eye makeup, always start with the lightest colours first.
Brighten the eye area and open it up with white pearly eye shadow applied to the inner corners.
Follow with pink shadow on the entire lid.
Add a hint of plum to the crease for better definition.
End with a darker mauve just beneath the eye.
For extra definition, use black eyeliner along the upper lash line.
After curling your lashes, brush on two coats of black mascara.
Finish by grooming your eyebrows. You can draw, tame and  set them all with a single eyebrow pencil.
Investing in good makeup brushes is a decision you will not regret. You'll get many years of use out of them.
Lips
To complete your monochrome look, highlight your lips with a hint of pink. Choose lipstick or tinted lip balm closely matching the colour of your blush to avoid a colour clash.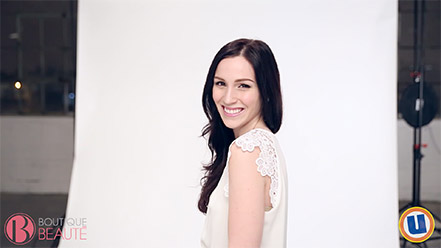 Your pastel monochrome makeup is now done. Here's to a lovely, soft, fresh and youthful look thanks to Cynthia Dulude for Uniprix! Click here for more tips and tricks and to watch the tutorial.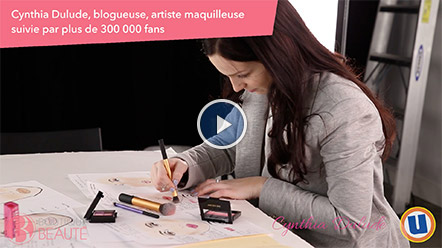 Pharmacy services
Inspired to try it? Drop by your local Uniprix and speak with your beauty consultant. She will help you find the products used by Cynthia Dulude.
Looking for more helpful health and beauty tips? Interested in receiving special offers? Click here and sign up for our newsletter today.