Boost your shine potential this season! Go for sparkles and glam it up to the max! Whether it's for the office party, a family reunion or a gathering with friends for the New Year countdown, follow these steps to pull off a holiday look that will grab the spotlight!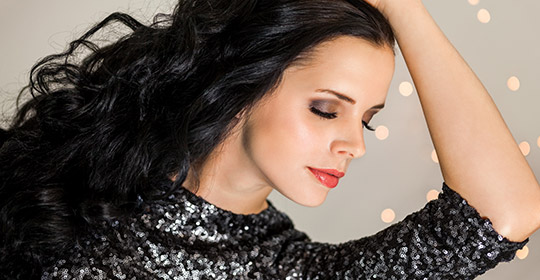 Here are the products you'll need for gorgeous holiday makeup:
• Makeup primer
• Concealer
• Shimmer powder, cream or stick
• Eye shadow base
• Eyeliner
• A sparkling eyeshadow palette
• An angled brush
• Glitter eyeliner
• Volumizing mascara
• Lipstick in a deep shade
• Matching lip liner
• Lip brush
• High-shine gloss
Step 1: A luminous complexion
To make sure your makeup lasts all evening, you absolutely need a makeup primer. Apply on the T zone (forehead, nose and chin). Primer is also great if you want to even out your complexion and tighten your pores.
Start with your foundation to be applied over the entire face. Always start at the centre of your face and move outward. Don't skip the concealer! It will hide dark circles, redness and other minor flaws.  To finish preparing your complexion, apply your highlighting powder, cream or stick. Use a brush or your fingers to apply it to your temples, the wings of your nose and Cupid's bow (V-shaped curve in the middle of your upper lip). This will add gorgeous glimmer to the light-reflecting areas of your face.
For even more shine, use a creamy glitter stick or shimmering oil in a gold shade on your shoulders and décolleté.
Finally, sweep blush over the apples of your cheeks to bring out your cheekbones.
Step 2: Glamorous eyes
The Holidays are the perfect time to play up your eyes and turn on the glitz! Choose sparkling shades and be sure your eyebrows are impeccably groomed.
Begin by applying an eye shadow base to smooth out the surface of the lid, hide any imperfections and give you long-lasting results.You can also sweep a neutral shade of eyeshadow over the entire surface of your upper lids to even out the skin tone on your lids.
With your eyeliner, trace a fine line near the root of your lashes. With an eye sculpting brush, apply a darker colour shadow from the outer corner to the inner corner of the eye, focusing on the crease. Blend it as you move toward the brow bone.
For a more dramatic look, add a touch of eyeshadow to your lower lid, along the lash line, using an angled eye shadow brush.
Apply your glitter eyeliner over your eyeliner.
Finish with one or two generous coats of volumizing mascara on the upper lashes and a thinner coat on the lower lashes. You can also try false lashes for a glamorous look!
Step 3: Sublime lips
The finishing touch! Go for lipstick in a deep shade.
Lip liner is an absolute must. Use it to trace the contour of your lips and make sure it matchesyour lipstick.
For greater hold, cover the entire surface of your lips with lip liner. Then apply your lipstick using the lip brush.
For ultra-shine, add a hint of gloss to the centre of your lips. The results will be sensational!
Your lips will be fabulously sublime, for a perfect, shine-infused holiday look!
Let the party begin!
Pharmacy services
Need personalized advice? Book an appointment at your local Uniprix. One of our beauty consultants will be more than happy to help!