One of the most amazing parts of parenthood during baby's first year is watching your child grow and change day by day. And while you want to give your baby the world, there are a few guidelines you should follow when it comes to nutrition.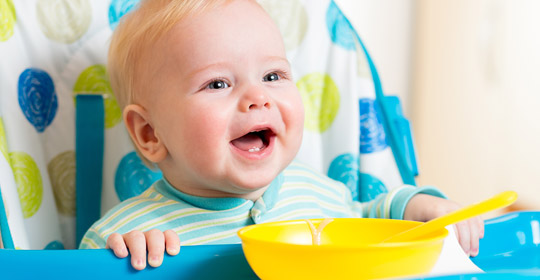 Tips on bottle feeding
Feeding time is a prime opportunity for babies to bond with their caregivers. Here are a few valuable tips on bottle feeding.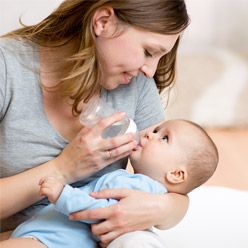 Do not send your baby to sleep with a bottle, since this poses a choking hazard. Babies who fall asleep with a bottle also have a greater risk of developing cavities and ear infections. Try an hour before bedtime instead.
Do not heat the bottle in the microwave. The uneven heating could seriously burn your little one's mouth. To heat a bottle, put it in a container of hot water for a maximum of 15 minutes. Before giving your baby the bottle, test a few drops of milk on the inside of your wrist (skin in this area is particularly sensitive to heat).
Do not mix cereal into bottles. Putting solids into a bottle dilutes the texture of the food and delays the progression to more advanced feeding skills. Sucking thick liquid through a nipple is also believed to put babies at risk for choking or aspiration, since bottles are not designed for this purpose.
Starting solids – Timing is everything!
Before the age of one, your baby will discover a whole new world of tastes and textures. But there is no need to rush it. Here are a few recommendations on starting your baby on foods other than formula or breast milk.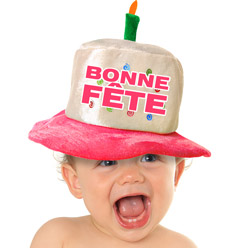 Introduce solid foods at approximately 6 months of age. This is the recommendation made by the Canadian Paediatric Society, the Dietitians of Canada and Health Canada. Choose iron-rich foods. In Canada, baby's first solid food is often iron-enriched baby cereal. Other options include meat, fish, poultry, cooked eggs, legumes and tofu.
        If you start solids too early, your baby could:
Drink less breast milk or infant formula, possibly leading to iron deficiency. The amount of iron in solid foods is not enough to compensate for the amount found in milk
Breastfeed less often causing you to produce less breast milk
Stop breastfeeding too early, preventing him or her from getting all the benefits of breast milk (protection from illness and allergies)
Do not give your baby too much juice. You can introduce 100% pasteurized fruit juice after the age of one, but no more than 125 to 175 ml per day, served in a cup, as part of a meal or snack. Too much juice can cause diarrhea and early childhood tooth decay. It can also fill up small stomachs and decrease your baby's appetite for more nutritious foods. Here's a useful tip: dilute it with some water.
Do not introduce cow's milk until 9 to 12 months of age. Cow's milk lacks the proper amount of iron that your baby needs to grow. Plus, it contains higher levels of proteins and some minerals that are not appropriate for babies. As for fat free and low fat milk, they do not have the fat babies need for rapid weight gain. Pasteurized whole cow's milk (3.25%) is recommended from 9 to 12 months and throughout early childhood.
Do not give your baby honey  in the first year of life. You must avoid giving your baby honey – pasteurized or non-pasteurized – whether on its own, on a pacifier or in food when cooking. In fact, cooking does not destroy the harmful bacteria in honey, which can cause botulism, a life-threatening, paralytic form of food poisoning.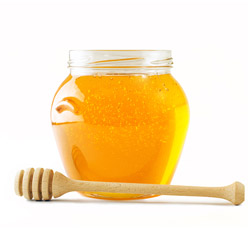 Do not give your baby solids that pose a choking hazard. Many foods need to be mashed or pureed so your baby can swallow them easily. Whole or chunky foods can get caught in a baby's windpipe, blocking air from the lungs.
       The following foods should be avoided:
Slices of hot dogs
Whole grapes
Nuts
Popcorn
Chips
Spoonfuls of peanut butter
Pieces of hard, raw vegetables
Hard candy
Chewy candy (e.g. gummy bears or jelly beans)
       Good to know!
       Foods that pose a choking hazard should not be given to children under the age of 4.
Do not give your baby foods that are high in nitrates. Processed meats and even some drinking water can contain nitrates. These can be harmful to your baby. These foods include:

Bacon
Bologna
Ham
Hot dogs
Sausage
Nitrate-contaminated drinking water, such as some well water
       Good to know!
       Many vegetables, including carrots, beets, turnip and spinach, contain nitrates. If your baby eats a varied diet, you do not need to worry about the nitrate levels in vegetables.
Do not add sugar or salt. The less salt and sugar babies eat, the more they learn to enjoy the natural flavour of foods.
Be cautious when introducing foods said to be allergenic. If a family member (father, mother, brother or sister) has allergies (food or other), be especially careful when introducing certain foods, such as peanuts, nuts, eggs, exotic fruit (e.g. kiwi, mango), fish, shellfish and seafood (e.g. shrimp, scallops). If you have concerns about giving your child these foods, speak with your pediatrician.

Pharmacy services
Need personalized advice? Come and speak with your family pharmacist for answers!