Skin cancer is the most frequent type of cancer in Canada. Its most common form, carcinoma, starts in the cells of the epidermis and accounts for just over 80 percent of all cases of skin cancer. This article deals with another type of skin cancer: melanoma.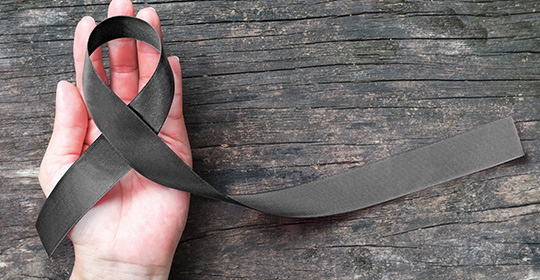 What is melanoma?
Melanomas form in the melanocytes, skin cells that produce melanin (pigments that account for skin colour). They account for less than 10 percent of all cases of skin cancer.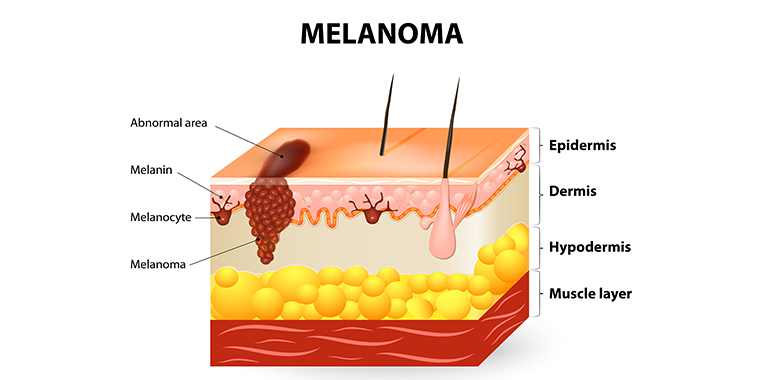 While relatively rare, melanomas have the highest likelihood of being deadly. In fact, they are responsible for 75 percent of skin cancer deaths. There is no such thing as benign melanoma, since it can progress quickly and result in metastases – or secondary sites.
According to the Canadian Cancer Society, approximately 7,000 people in Canada are diagnosed with melanoma annually. And, every year, close to 1,200 Canadians die from this form of cancer. With the number of cases increasing year after year, the time has come to sound the alarm.
Fortunately, when detected early, most cases of melanoma can be successfully treated. That's why regular examination of the skin is important, even in children, since the tumours can develop at any age.
Symptoms
Melanomas are not usually painful. They can form on any part of the body, but normally develop on the back and legs.
Here are a few possible signs of melanoma:
 
A change in the colour or size of an existing mole or spot or the development of a new irregular-looking mole or spot.
The formation of a dark brown or black lesion on the skin or in the mucous membrane that lines the mouth, nose, genitals or anus.
In fact, you should look for lesions that present the following signs (ABCDE rule):
A: Asymmetry
B: Irregular borders
C: Changes in colour (many colours)
D: Diameter (more than 6 mm)
E: Evolving (appearance changes over time)
Prevention
One of the main causes of skin cancer is exposure to ultraviolet radiation, or UV rays. UV rays are invisible and are produced by the sun and tanning lamps. Most often, skin cancer is the result of overexposure to the sun.
The Public Health Agency of Canada and the Canadian Cancer Society estimate that about 90 percent of skin cancers could be prevented with adequate protection from UV rays. How? Here are a few basic tips:
Apply sunscreen with an SPF of at least 30 every time you expose your skin to the sun. Carefully read the instructions on the packaging and follow them to the letter.
Wear long-sleeved, tight-knit clothing, a hat with a wide brim and sunglasses.
During the summer, avoid staying in the sun without protection between 11 a.m. and 4 p.m.
Do not use tanning lamps. They are as damaging as the sun itself.
Pharmacy services
Certain medications can increase skin's photosensitivity (i.e. make it more sensitive to the sun). Need to know which ones? Ask your family pharmacists. They can advise you on photosensitive drugs and give you useful sun protection tips.