If you experience fits of sneezing, a runny nose and watery eyes for no apparent reason, you may have allergic rhinitis, also known as seasonal allergies. While allergies are often hereditary, they can also develop at any time in a person's life. Let's shed some light on this condition.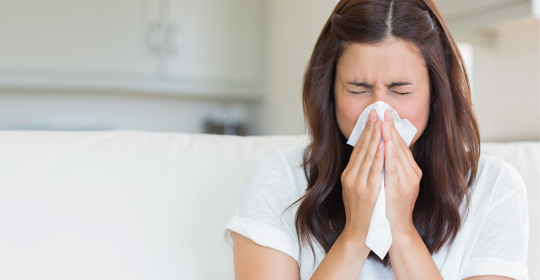 What is allergic rhinitis?
Allergic rhinitis is an inflammation of the mucus membranes in the nose, sinuses and eyes. It is triggered by an overreaction of the immune system to the presence of an allergen, such as pollen or dust mites.  To defend the body, the immune system releases various substances including histamine, triggering allergy symptoms.
Many substances can cause allergic rhinitis. For example, nonseasonal allergic rhinitis can be due to any number of allergens, including dust mites, substances in animal fur, animal dander (dead skin) or animal saliva. As for seasonal allergies, they can be triggered by pollen from trees (e.g. birch, maple, oak), grasses (e.g. hay) or weeds (e.g. ragweed). Outdoor moulds are another common allergen.
What are the symptoms of allergic rhinitis?
Most people suffering from allergic rhinitis will experience some of these symptoms:
Itchy nose, eyes, throat and roof of the mouth
Runny nose
Sneezing
Nasal congestion
Red eyes
Watery eyes
If you are experiencing these symptoms and think you may be allergic to a particular substance, note the time and place when your symptoms are at their peak. This information will help to draw up a short list of possible culprits.
Seasonal allergies and the weather
Seasonal allergies are closely connected with the weather. A short, warm spring means allergy season will start and end early, while a cool spring is a sign that it will start off slowly, but last longer.
Rain is good in a way, because it reduces pollen in the air by washing it to the ground. On the other hand, it increases the concentration of outdoor moulds, another common allergen. As for wind, it sweeps up pollen and distributes it wherever it goes. With this in mind, here are a few tips to minimize your allergic reactions:
Wait for non-windy days to do outdoor activities. If you're allergic to pollen, remember that rain is your friend!
Wear sunglasses to protect your eyes from airborne allergens and irritants.
When you come in, take a shower, wash your hair and change your clothes to get rid of the pollen that may have collected on you during the day.
Wash your sheets and clothing in very hot water and do not dry them on the clothesline.
Check the pollen index every day. It indicates the concentration of pollen in the air.

Pharmacy services
If you suffer from allergic rhinitis, don't hesitate to ask your family pharmacists for advice. For instance, they can prescribe* medications for certain minor health problems, including allergic rhinitis, when the treatment and diagnosis have already been established. A consultation will be required to make sure you meet the prescribing criteria.
To avail yourself of this service, you may need to book an appointment with your family pharmacist. Ask a member of the pharmacy team for more details. Some Uniprix-affiliated pharmacies also offer an online appointment booking service. To locate the store nearest you providing this service, click here.
*Certain conditions must be respected. Fees may apply. Ask a member of the pharmacy team for more information. Pharmacists alone are responsible for the practice of pharmacy. They offer related services only on behalf of pharmacist-owners.