What would you like your toothpaste to do for you? Prevent cavities, eliminate plaque, reduce tartar build-up, protect sensitive teeth, lower your risk of gingivitis or freshen your breath?  Perhaps all of the above? What you need is the right toothpaste! Here are tips on making the best choice.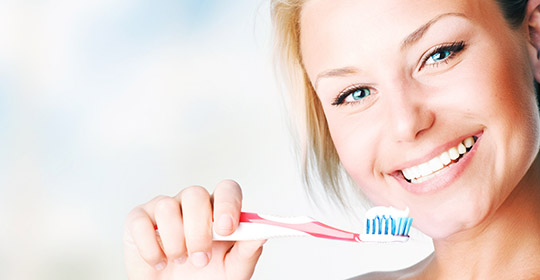 Start with the right toothbrush
Toothpaste would be nothing without its trusty sidekick, the toothbrush. Make sure you use a toothbrush of proper size (adult or child) with an oval head, soft rounded bristles made of nylon and a handle with a good grip.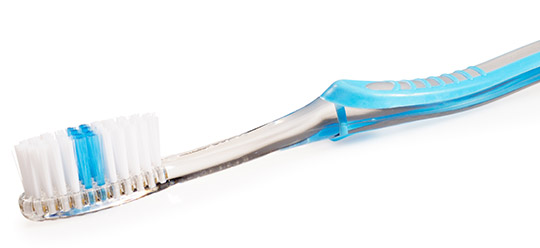 Using the right toothbrush and toothpaste will help remove minor surface stains, food particles and the dental biofilm. The biofilm, also known as "dental plaque," is composed of microorganisms that cause cavities and gum infections. When it hardens, plaque turns into tartar, which is also associated with gum and periodontal infections.
For best results, you should brush your teeth for two minutes at least twice a day.
The various benefits of toothpaste
Toothpaste can address various preventive and therapeutic needs depending on the ingredients it contains. Make your choice based on what you want your toothpaste to do for you.
Cavity prevention and reversal of tooth decay (demineralization)

Toothpaste with fluoride helps to prevent cavities by halting bacterial activity and the demineralization process. It also promotes the re-mineralization of tooth enamel. In Canada, approved fluoride-containing toothpaste has an eight-digit drug identification number (DIN) or a natural product number (NPN).

Prevention of tartar build-up

Specific ingredients found in certain toothpastes are made to adhere to the tooth surface and prevent the formation of tartar – a.k.a. dental calculus.

Gingivitis risk reduction and elimination of bacteria   

Toothpaste formulated with an antiseptic agent will kill germs and fight the formation of plaque, providing protection against gum inflammation.

Diminished tooth sensitivity (hot/cold)

Depending on the ingredient used, toothpaste made for sensitive teeth works by either preventing the pain signal from reaching the brain or forming a protective barrier on the surface of exposed dentin.

Prevention of surface stains

If you have surface stains (tea, coffee, cigarettes, etc.), whitening toothpaste has the abrasive ingredients you need to remove them. To change the natural colouring of your teeth, however, you will need to visit your dentist. Remember never to use whitening toothpaste more often than indicated in the instructions.
 
The Canadian Dental Association Seal
Products with the Canadian Dental Association Seal have met various criteria (scientific data and clinical or lab trials) to prove they comply with the claims being made. Keep in mind that the Seal is optional.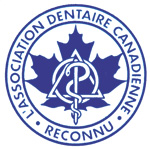 How much toothpaste should I use?
According to the Ordre des hygiénistes dentaires du Québec and contrary to popular belief, you do not need to use a large amount of toothpaste to reap all the benefits it has to offer.
First tooth: Only a hint of toothpaste (no thicker than a sheet of paper).
Starting at age 1: The size of a grain of rice.
Starting at age 3: The size of a pea.
Teens and adults: The width of the toothbrush (1 cm or ½ inch)
Children six and under should be supervised when they brush their teeth to make sure they do not swallow any paste and that they rinse their mouth well once they are done.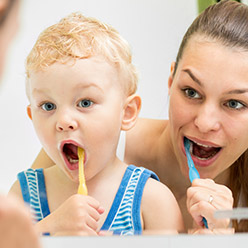 Some therapeutic ingredients found in toothpaste may not be suitable for children before the age of 6, 8 or 12. Be sure to read the label.
Ingredients to avoid
The Ordre des hygiénistes dentaires du Québec has listed a few ingredients to avoid in certain circumstances.
For example, you should avoid:
baking soda if you are on a low-sodium diet
sodium lauryl sulfate (LSL) if you have dysphasia
abrasive ingredients if you have irritable bowel syndrome
peroxide if you smoke, since it increases the carcinogenicity of tobacco
Pharmacy services
Do you have questions about toothpaste or oral health? Talk to your family pharmacist for answers!