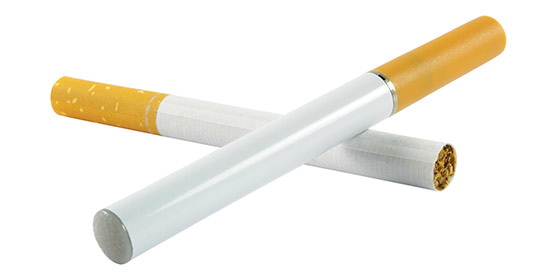 We see them in movies and magazines. You can buy them on the Web or even at your corner store. It's the electronic cigarette and it's taking the Quebec market by storm! Have you heard of it?
What is it and how does it work?
Available as a regular-looking cigarette or in designer styles, the e-cigarette is composed of a battery, an atomizer, an LED light that simulates the burning end of a cigarette and a cartridge that holds a liquid solution with or without nicotine (the sale of nicotine-containing e-cigarettes being banned in Canada). It comes in flavours such as tobacco, chocolate and menthol.
When you inhale, the atomizer produces a vapour that contains propylene glycol and other chemicals , whose effects on human health are not yet known, and this creates an experience similar to inhaling real cigarette smoke .
Is it safe?
Given that no scientific evidence has established the safety of the electronic cigarette or its effectiveness as a nicotine replacement therapy , the World Health Organization, Health Canada and the Quebec department of health and social services strongly advise against the use of this product and other similar products.
While they may be easy to find on the Web, e-cigarettes with nicotine-containing cartridges are banned here in Canada. Only the nicotine-free models are permitted for sale.
Good to know!
• Electronic cigarettes vaporize a mix of chemicals and nicotine, posing a risk for nicotine poisoning or addiction.
• Propylene glycol, which is found in e-cigarettes and generally considered non toxic, is used in food and pharmaceuticals. It is also used to de-ice aircraft wings.
If you're thinking of using this type of product, consult your health professional first.
Pharmacy services
Your pharmacist is a valuable source of information for all your health-related questions. Just ask!