When your baby reaches six months of age, it's time to start thinking about introducing solid foods. Here are a few tips to get you started.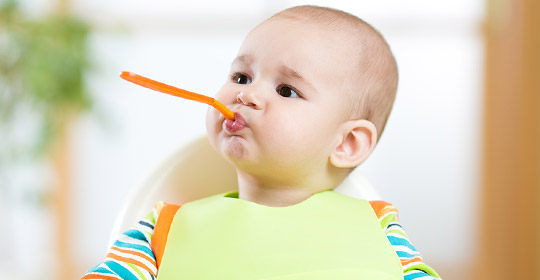 The order in which solid foods are introduced varies based on countries and customs. The important thing is to begin with those that are rich in iron. Once your baby is eating at least two daily servings of iron-rich foods, you can then start adding other items to the menu.   
Which foods are rich in iron?
Iron-fortified baby cereals are one of the foods that are rich in iron. These cereals will be an integral part of your baby's diet until the age of 18 to 24 months. Start with barley or rice, with no added vegetables or fruit. Once your baby has discovered each type of single-grain cereal individually, you can try mixed cereals (made with several grains or combined with fruit). Choose whole-grain cereals as much as possible.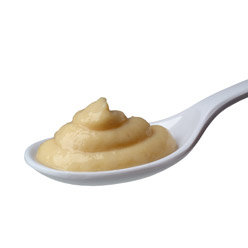 Beef, pork, veal, lamb, liver, chicken, turkey, eggs, legumes and plain tofu also contain iron. As a general rule, avoid adding salt, spices or fat when preparing these foods. You can also give your baby fish; just be sure to choose a variety that contains the fewest contaminants possible.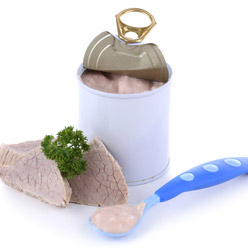 Fruit and vegetables
Fruit and vegetables are rich in vitamin C, a nutrient that helps the body absorb iron. For this reason, it is a good idea to add them early to your child's diet. As with other foods, it is best to introduce only one at a time and then alternate. You could eventually feed your child vegetables for lunch and dinner and offer fruit for breakfast and dessert.
In the past, parents were advised to wait until their babies were nine months old before giving them carrots, beets, spinach and turnip, due to the higher content of nitrates in these vegetables. We now know that nitrates do not pose a problem after the age of six months if a child is eating a varied diet.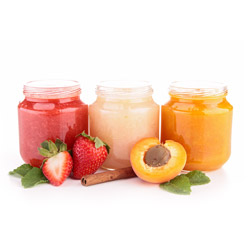 Fruit and cooked vegetables should be served with no added seasonings or sugar, pureed or mashed with a fork. As for fruit juice, wait until your baby is one year old. Dilute it half and half with water and never exceed 125 to 175 ml (4 to 6 ounces) of juice per day.
What about serving size?
The Canadian Paedetric Society suggests starting with 1 or 2 teaspoons of pureed solids. Be patient. Some babies need to taste a food several times before accepting it. You also want to pay close attention to your baby's hunger cues (excitement, opening mouth) and fullness cues (turning away, closing mouth).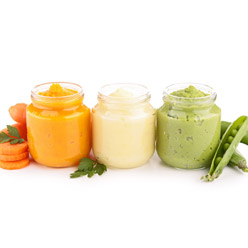 Pharmacy services
Do you have questions about your child's health? Your family pharmacist will be more than happy to answer them. Just ask!