Am I pregnant?
Whether your pregnancy is a long-awaited blessing or a complete surprise, you are bound to have a whole host of questions, starting with the most obvious: Am I really pregnant? 
Signs and symptoms
If you missed your period and show the following signs, you could be pregnant : 
Sore, swollen breasts
Fatigue, dizziness and vertigo
Special food cravings
A bloated feeling
Even if you have these signs, remember that the only way to know you are pregnant is to take a pregnancy test.
When to take the test
Most store-bought urine pregnancy tests can detect a pregnancy two weeks after potentially fertile intercourse or from the first day of a missed period. 
If the test is positive, see your doctor to make sure the pregnancy is going well. If the test is negative but you still have symptoms (e.g. you still did not get your period), see your doctor, as well, to determine the cause.
As for blood pregnancy tests, they can be done 10 days after intercourse, since pregnancy hormones first show up in blood before being present in urine.
Urine versus blood pregnancy tests 
Urine pregnancy tests are generally 99 percent effective when used according to directions. This includes testing with the morning urine, which is more concentrated, and not taking the test too soon. If you test too early on, you may get a false negative since the pregnancy hormones will not be detectable. As for positive results, they are accurate 99 percent of the time.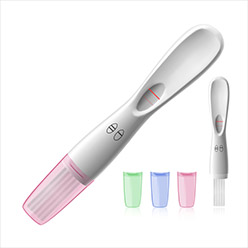 Blood pregnancy tests are 100 percent accurate. They require a doctor's prescription.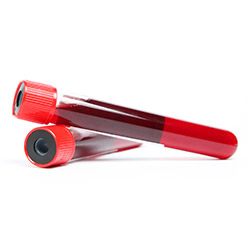 You have the result, now what? 
What should you do if the test is negative and you've been trying to conceive? If it's only been one month, there is no need to worry. Just keep trying. But if you have been having regular,  unprotected sexual intercourse for more than 12 months (or 6 months if you are over 35), and you are still not pregnant, you should book an appointment at a fertility clinic.
If the negative result had you breathe a sigh of relief, it might be a good idea for you to talk to your doctor about contraception, as the case may be.
Are you overjoyed with your eagerly awaited positive? Or perhaps the news comes as a total shock. In either case, the most important thing is for you to get support. Whether you need prenatal care and follow-up, help in assessing your options for the future or support in dealing with the grief of a miscarriage, be sure to call on your family doctor, your local CLSC or a support organization, such as www.sosgrossesse.
Pharmacy services