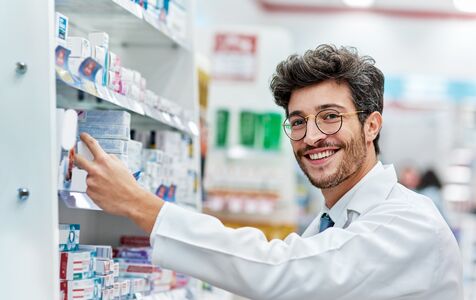 Did you know that there are many things your family pharmacist can do for a person with Alzheimer's disease and their loved ones?
Role 1: Preventing Alzheimer's
The best way to reduce the risk of developing Alzheimer's is to adopt healthy lifestyle habits. Like any other healthcare professional, your family pharmacist should encourage you to:
Eat a balanced diet (colourful, high-fibre and low-fat meals)
Be physically active for 30 minutes a day (walking, jogging, cycling, doing yoga, etc.)
Get enough sleep each night
Maintain an active social life
Manage stress
Drink alcohol in moderation
Stop smoking (cigarettes, vapes, joints, etc.)
Regularly stimulate your brain (reading, doing Sudoku, crosswords or puzzles, playing video games, etc.)
When it comes to smoking, your family pharmacist can support you in quitting, in particular by prescribing nicotine replacement therapies.* Interested? Ask your team of pharmacists!
Role 2: Detecting Alzheimer's
Given the nature of their work, your family pharmacist builds a trust-based relationship with you and your loved ones. They know you well and see you frequently. That's why they may be able to detect some of the preliminary signs  of Alzheimer's, such as disorientation or language issues.
Role 3: Providing resources and support
If your family pharmacist notices changes in you or your loved one's behaviour, they will recommend a visit to your family doctor. Your physician will do a series of tests to evaluate your physical and mental health.
Have you been diagnosed with a neurodegenerative disease? Or does a relative have Alzheimer's and you're their caregiver? Your family pharmacist can help. They can inform you of the various resources available in your area.
Role 4: Ensuring follow-up on medications
Currently, Health Canada has approved only three drugs for Alzheimer's. These are only moderately effective and are mainly used to alleviate symptoms because, unfortunately, there is still no cure for Alzheimer's disease.
As with other health issues, your family pharmacist can:
Prepare prescriptions
Adjust prescriptions, if necessary
Explain the expected benefits of the medication
Assess drug interactions
Inform you of possible side effects
Encourage you to adhere to treatment
Suggest drug administration according to your condition
And more
When it comes to degenerative diseases, such as Alzheimer's, your family pharmacist relies on your help. Your feedback—comments, observations or other input—will help them adjust your medication, for example. Take the time to discuss the particulars of your condition with your family pharmacist at your next visit to the prescription counter.
Pharmacy services
Do you have questions about Alzheimer's? Ask with your family pharmacist. They're there for you!