Nicotine replacement therapies | Uniprix
Quit smoking with nicotine replacement therapies
Your mind is made up: you want to quit smoking. But where do you start? Who can you turn to for help? Your family pharmacist is well equipped to give you the support you need. In fact, your pharmacist may be the only health professional you will need to see as you move toward a smoke-free life.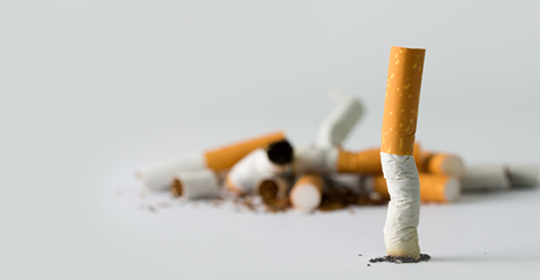 Getting support
The effectiveness of pharmacological aids is now well established: they double your chances of quitting! Such therapies, whether drug based or not, can make a tremendous contribution to your success. They will help you feel better physically, as you tackle other important aspects of quitting, such as your habits as a smoker.
Your pharmacist can help you select the therapy that is right for you. For example, he or she can recommend a nicotine replacement therapy (NRT), if this option is the one best suited to your particular smoking status.
Available as patches, chewing gum, lozenges, inhalers and oral sprays, NRTs supply your body with a small dose of nicotine to fill its physiological need. This helps to reduce withdrawal symptoms.
Consulting with your pharmacist for a prescription
Pharmacists are now authorized to prescribe* treatment for certain minor conditions that do not require a doctor's diagnosis. This includes quitting smoking. In other words, patients who wish to quit can obtain a prescription for an NRT without having to see a doctor, entitling them to a reimbursement. A consultation with your pharmacist will be required to ensure you meet the criteria involved. It is also important to talk with your pharmacist to obtain all the relevant information about this treatment.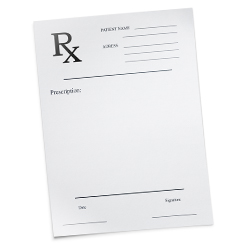 In addition to issuing your prescription, your pharmacist can:
give you all the relevant information on the type of medication selected
monitor your use of the NRT
refer you to a Quit Smoking Centre, if needed
You may need to book an appointment with your family pharmacist to avail yourself of some of the services available. Talk to your pharmacy team for more information.
Some Uniprix-affiliated pharmacies offer an online appointment booking service. Click here to find the pharmacy nearest you offering this service.
Nicotine replacement therapies (NRTs)
Nicotine patches: They contain nicotine, which is released continuously into your body over 16 or 24 hours. They come in three different doses, generally known as "steps." The starting dose varies depending on your level of smoking and will be lowered over 12 weeks. Patches need to be changed every day and reapplied on different areas of the body to prevent skin irritation.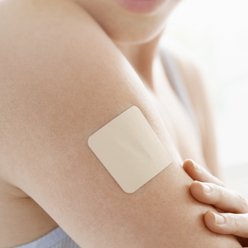 Nicotine gum and lozenges: They contain nicotine, which is released and absorbed through the lining of the mouth. Important! Nicotine gum requires a special chewing technique called "chew and park." You chew the gum 2 or 3 times then park it between your cheek and gums for 1 minute. Repeat for a maximum of 30 minutes. The nicotine dose of the gum (2 mg or 4 mg) or lozenges (1 mg, 2 mg or 4 mg) will be selected based on your level of smoking.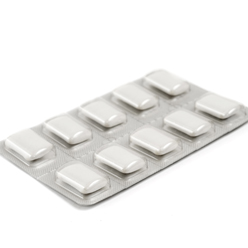 Nicotine inhaler: This product is made specifically for people who have difficulty breaking the hand-to-mouth ritual of smoking. The inhaler is composed of a mouthpiece and a nicotine cartridge. When you inhale, the nicotine turns into vapour that is absorbed by the lining of the mouth and throat, without reaching the lungs. Each cartridge contains 10 mg of nicotine and can be used more than once.
Oral spray: With this product, you spray a nicotine-containing solution into your mouth. The spray needs to be carefully pointed toward the inside of the mouth to avoid contact with the lips. You should also refrain from inhaling when spraying the solution to keep it from reaching the throat. For best results, it is preferable not to swallow your saliva a few seconds after using the spray. The maximum dose is 2 sprays at a time, 4 times an hour for a daily maximum of 64 sprays. One spray bottle contains approximately 150 doses with 1 mg of nicotine each.
Good to know!
You must cease the use of tobacco products when using any NRT.
Other smoking cessation options
Two non-nicotine containing medications, bupropion and varenicline can also be prescribed by the pharmacist to help you quit smoking. Consult your pharmacist to find out if they are right for you.
What about e-cigarettes?
At this time, Health Canada and the Quebec public health authorities do not recommend the use of electronic cigarettes, since their composition and long-term health impact remain unknown.
Some experts consider them a very promising option, but it is important to note that the e-cigarette market remains unregulated. For this reason, it is advisable to consult your pharmacist or doctor for appropriate advice on quitting smoking.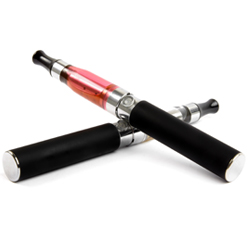 Pharmacy services
Would you like to know more about quitting smoking, pharmacological aids and the support your pharmacist can offer you? Drop by your local sales location and speak with your family pharmacist for all the answers to your questions!
*Certain conditions must be respected. Fees may apply. Ask a member of the pharmacy team for more information. Pharmacists alone are responsible for the practice of pharmacy. They offer related services only on behalf of pharmacist-owners.
The pharmacy services presented in this section are offered by pharmacist owners who are affiliated with Uniprix. The pharmacists are solely responsible for the professional activities carried out during the practice of pharmacy. These services are offered in participating pharmacies only. Certain fees and conditions may apply.

* The information contained herein is provided for informational purposes only and is not intended to provide complete information on the subject matter or to replace the advice of a health professional. This information does not constitute medical consultation, diagnosis or opinion and should not be interpreted as such. Please consult your health care provider if you have any questions about your health, medications or treatment.