Pain relief and safety can rhyme during your pregnancy
If you suffer from chronic pain and wish to have a baby, or are already pregnant, you are probably concerned about the possible effects of your medication on your unborn baby. Rest assured, your pharmacist and doctor will make sure your pain medication is safe for your baby.
Early action is key
Ideally, you should meet with your doctor when you decide to have a baby. If the pregnancy was not planned, talk to your pharmacist or doctor as soon as you know you are pregnant.
Your healthcare professionals will carefully analyze the medications you are taking and recommend alternative options as needed. Do not hesitate to voice your concerns. You should be actively involved in this process.
Never stop your treatment on your own. Your pain level may increase and have a negative impact on your health, for example raising your blood pressure which can be harmful to the fetus too, or your health condition may deteriorate and become more difficult to control when the treatment is reinstated.
Safe use of OTC medications during pregnancy
Acetaminophen is considered safe during pregnancy and breastfeeding. It is often the medication of choice to relieve mild to moderate pain.
OTC non-steroidal anti-inflammatory drug (NSAIDs) such as ibuprofen, may not be safe for you or your baby, so always ask your pharmacist before taking one.
Depending on your pain treatment, taking an over-the-counter (OTC) analgesic in addition to your pain medication may or may not be a safe option. OTC analgesics can contain the same ingredients, or very similar ones, as those in your prescription medications, putting you at risk of taking too much. Many "all-in-one" products to treat cold or allergies also contain an analgesic. For these reasons, always validate with your pharmacist before taking an OTC pain relievers.
If you become ill, with a cold for example, or have pregnancy–related discomfort, such as heartburn, never take an OTC product or a natural health product without first talking to your doctor or pharmacist. Your health care professionals will recommend safe options to relieve your symptoms.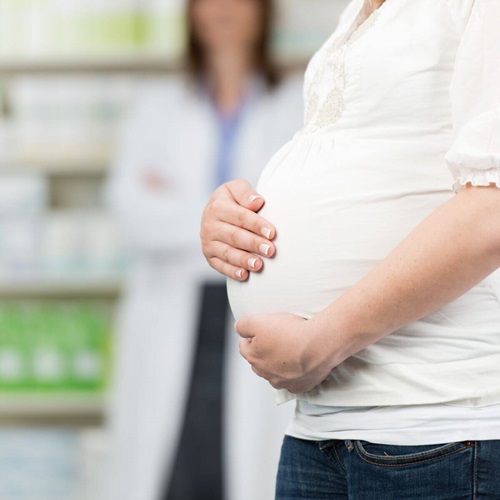 Relieving pain with non-drug measures
To help relieve your pain, you may also consider alternative methods like stretching, meditation or relaxation techniques. These non-drug methods can help you better manage your pain during and after your pregnancy.
The pharmacy services presented in this section are offered by pharmacist owners who are affiliated with Uniprix. The pharmacists are solely responsible for the professional activities carried out during the practice of pharmacy. These services are offered in participating pharmacies only. Certain fees and conditions may apply.

* The information contained herein is provided for informational purposes only and is not intended to provide complete information on the subject matter or to replace the advice of a health professional. This information does not constitute medical consultation, diagnosis or opinion and should not be interpreted as such. Please consult your health care provider if you have any questions about your health, medications or treatment.