how do you get pink eye?
Conjunctivitis is an inflammation of the conjunctiva, a membrane that lines the inside of the eyelid and covers the white part of the eye. The inflammation causes the tiny blood vessels in the conjunctiva to become more visible, hence the disease's common name "pink eye."
What are pink eye symptoms?
In addition to typical eye redness, conjunctivitis can also cause the following symptoms:
Irritation
Burning sensation or gritty feeling in the eyes
Clear or coloured discharge that can form a crust while you sleep (depending on the cause of conjunctivitis)
Other eye problems, including dry eye or trauma, can sometimes lead to similar symptoms.
Causes of conjunctivitis
Conjunctivitis can be caused by any of the following:
A virus or bacteria – infectious conjunctivitis
An allergic reaction (e.g., to cats or pollen) – allergic conjunctivitis
An irritating substance (e.g., smoke, chlorine in swimming pools) – chemical conjunctivitis
Depending on the cause, conjunctivitis can develop in one or both eyes.
How to prevent infectious conjunctivitis?
Conjunctivitis that is caused by a virus or bacteria is usually highly contagious. Regular handwashing is crucial when you have a cold, or if someone close to you has conjunctivitis or another viral or bacterial infection.
Avoid touching your eyes as this can spread the infection more readily.
Avoid sharing towels and any other objects that may have come in contact with the infected person's eyes, e.g., hats and scarves in the case of young children.
People who wear contact lenses, especially extended-wear models, must be careful to follow the manufacturer's instructions for cleaning and storage. Poor contact lens care can lead to bacterial contamination, which can spread to the eyes.
Be very vigilant when trying in-store cosmetic testers, as they can be contaminated with viruses, bacteria, and even fungi if single-use applicators are not provided. When in doubt, avoid them altogether!
How to prevent conjunctivitis caused by allergens?
Allergic conjunctivitis is avoidable when caused by an avoidable allergen. For example, if you are allergic to cats or dogs, avoid touching the animal and, if you do, wash your hands as soon as possible afterwards. If you are planning to visit someone who has an animal you're allergic to, consider taking an antihistamine beforehand.
It is much harder to avoid seasonal allergies like pollen, because the particles are suspended in air. However, there are certain measures you can take to limit your exposure.
Preventing conjunctivitis caused by irritating substances
In the case of conjunctivitis caused by irritating substances, avoidance and protection (like wearing safety glasses) are the best preventive measures. If your eyes come into contact with an irritant, like a household cleaning product, for example, rinse them thoroughly with cool water.
How to treat conjunctivitis
For all types of conjunctivitis, the first line of treatment consists of easing discomfort, for example, by
applying cool or lukewarm compresses to the eye several times a day (taking care not to touch the other eye if only one is affected); or
using lubricating eye drops to soothe irritation.
For infectious conjunctivitis
Viral conjunctivitis is usually caused by one of the cold viruses, therefore antibiotic drops or ointments are of no use. Symptoms generally clear up within a few days. The same is true of most bacterial conjunctivitis. To be on the safe side, check with your pharmacist. If you need a treatment, they will refer you to a health professional who can prescribe one.
If you wear contact lenses, it is important to discard the pair you were wearing when the infection appeared and avoid wearing contacts altogether until your symptoms have subsided. It is also best to throw away any makeup you were using when you came down with pink eye, and to disinfect your makeup accessories.
For allergic conjunctivitis
Antihistamine eye drops can be used if your symptoms are limited to the eyes. Antihistamine tablets (or syrups) help soothe all symptoms, including rashes and itchy nose or throat. Consult your pharmacist if you're not sure which antihistamine to choose.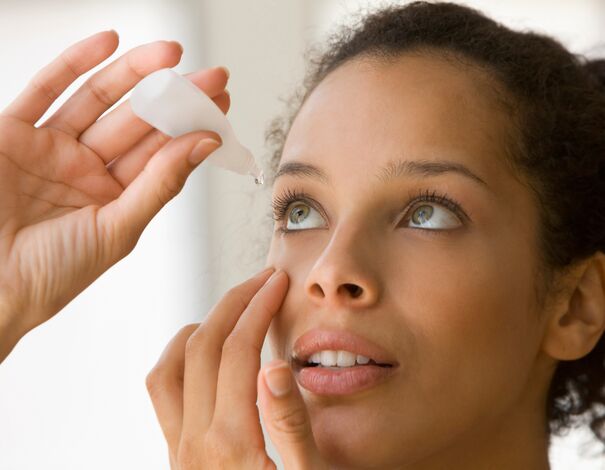 Your pharmacist can help!
Got red eyes and not sure why, or what to do about it? See your pharmacist—they will recommend the best care, or refer you to your doctor, as needed (for example if you have pain, loss of vision or intolerance to light).
The pharmacy services presented in this section are offered by pharmacist owners who are affiliated with Uniprix. The pharmacists are solely responsible for the professional activities carried out during the practice of pharmacy. These services are offered in participating pharmacies only. Certain fees and conditions may apply.

* The information contained herein is provided for informational purposes only and is not intended to provide complete information on the subject matter or to replace the advice of a health professional. This information does not constitute medical consultation, diagnosis or opinion and should not be interpreted as such. Please consult your health care provider if you have any questions about your health, medications or treatment.