Amsler Grid
The Amsler grid is used to screen and monitor for macular degeneration. This eye disease, which often strikes older adults, affects more than one million Canadians. It is the leading cause of vision loss in the elderly. The Amsler grid test is not a substitute for regularly scheduled eye exams! It is recommended that you see an optometrist at least once every two years, and once a year after the age of 50.
How to use the grid
If you wear glasses, keep them on for the test. Make sure you are in an area with good lighting.

The grid should be at a comfortable reading distance (about 30 to 40 cm). If you wear bifocals, position them so that you are looking through the bottom or reading portion of the lens.
Cover one eye with your hand and look at the dot in the centre of the grid.
As you continue to look at the centre dot, check to see that you can see the entire grid, that all the lines are straight and that all the squares are the same size.
Test each eye separately.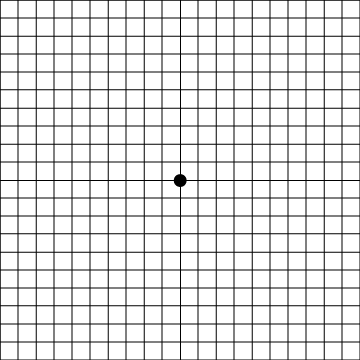 Results
When you were looking at the grid, were there any:

grey or blurry areas?
wavy or distorted lines?
blank spots or spots in the grid?
irregular images (generally speaking)?

Examples of altered Amsler grids due to ARMD:
Distortion
Blank spot
If you answered "yes" to any of these questions, see an eye care professional as soon as possible.
[UNIPRIX] © Copyright Vigilance Santé

The patient information leaflets are provided by Vigilance Santé Inc. This content is for information purposes only and does not in any manner whatsoever replace the opinion or advice of your health care professional. Always consult a health care professional before making a decision about your medication or treatment.