The appearance of horizontal or vertical lines and wrinkles is due to various factors, among them genetics (loss of elasticity and firmness, slower cell renewal rate), hormone changes, sun exposure, smoking, pollution, stress and, of course, repeated facial expressions.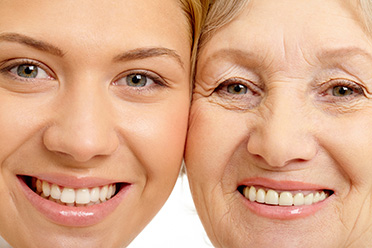 Types of lines and wrinkles
Horizontal lines are usually the first to show up. We see them develop in the corner of the eyes (crow's feet) and on the forehead. As for the deeper, more pronounced vertical lines, they are the result of repeated muscle contractions and expressions of the face. Some say they actually reflect the essence of who we are!
Over time, the muscles and skin of the face begin to slack, eventually losing their ability to return to their original position. They then take on the shape of our natural, unconscious facial expressions. Much effort has gone into finding original names for these lines, perhaps by way of attempting to better accept them? Here are the main types.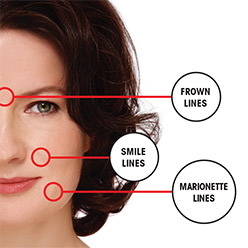 Frown lines. These familiar lines develop on the glabella – space between the eyebrows. As the name suggests, they are associated with frowning. Frown lines can make you look angry, worried, skeptical or deep in thought. On a more positive note, in Asia, people believe they are an indication of a woman's character.
Nasiolabial folds or smile lines. These lines run from each nostril to the corners of the mouth. Having them is not all bad, since it means we've smiled a lot over the years.
Marionette lines or sad smile. These wrinkles, with their slightly negative name, run straight down from the corners of the mouth to the lower jaw line. When very pronounced, they look like the articulated mouth of a ventriloquist's puppet.  
How to treat vertical lines
Wrinkle creams, facial gymnastics, anti-aging Daniele Henkel to go treatments, injections with filler agents and surgery are a few of the options available to reduce or eliminate the signs of aging.
In terms of anti-aging creams, there are specific products designed to treat all types of wrinkles, even the deeper, vertical lines. For maximum efficiency and to regain a more youthful, rested and positive appearance, it is best to start by applying the product over the entire face, followed by targeted application to troubled spots using a gentle massaging action. For example:
For the frown line, gently press your thumbs between your eyebrows and, using an up-and-down motion, move from the centre of your eyebrows to the ends. Repeat 10 times.
For the nasiolabial folds, cup your hands around your mouth like a bullhorn and slide them to stretch back your skin. Repeat 10 times.
For marionette lines, use the back of folded fingers and stretch the skin outward. Repeat 10 times.
For best results, use a serum with the same properties. Look for ingredients, such as hyaluronic acid, retinol, jasmonic acid derivatives, vitamin C and rhamnose.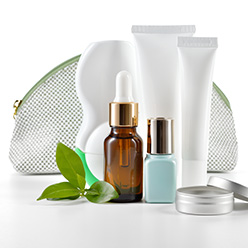 Pharmacy services
Would you like to fight your wrinkles with specially formulated creams or with Daniele Henkel to go treatments? Drop by your local Uniprix! Your beauty consultant will be happy to help.
Looking for more helpful health and beauty tips? Interested in receiving special offers? Click here and sign up for our newsletter today.