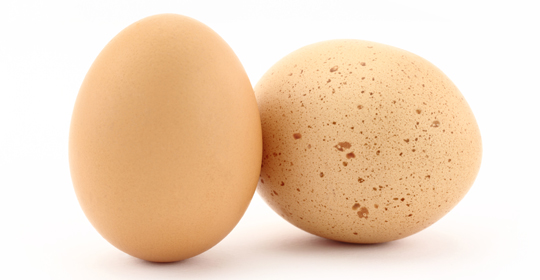 Some people call them age spots, others, liver spots, sun spots or pigment spots. No matter the name, they all refer to the same little brown marks on our skin. Wouldn't it be great if we could prevent, reduce or even eliminate them?  
Another form of sun damage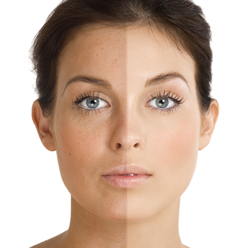 Fine lines around the eyes and mouth, loss of tone, spider veins on the nose, cheeks and neck and age spots are all signs of premature aging of the skin caused by repeated exposure to UV rays either from the sun or other artificial sources (e.g., tanning beds).  
According to the Canadian Dermatology Association, photoaging – the term used to describe this phenomenon – accounts for up to 90 percent of skin damage on sun-exposed areas of the body. And unlike normal aging, it can be prevented with good sun protection habits .
Are they dangerous?
No, age spots, are generally not dangerous. As mentioned, they are mainly due to cumulative exposure to the sun and, in some cases, exacerbated by changes in hormone levels (e.g., birth control pill, pregnancy, hormone replacement therapy).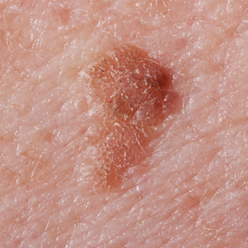 That being said, age spots, just like moles, should be examined regularly to detect possible warning signs of cancer.  Look for them where they most often develop – on the face, neck, hands and décolleté – and follow the simple ABCDE rules.
If the age spot:
A = is Asymmetrical
B = has an irregular border
C = has an uneven colour
D = is more than 6 mm in diameter
E = evolves and changes in a noticeable way
consult a healthcare professional to have it checked and, if necessary, analyzed.
Protection 101
You may have gathered by now that you can avoid these unsightly little spots – or at least keep them from growing or prevent new ones – by adopting healthy habits when spending time outside.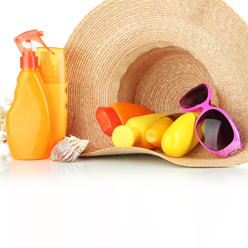 Enjoy reasonable sun exposure, but not during its peak hours between 11 am and 4 pm.
Apply broad-spectrum sunscreen (UVA and UVB protection) with a sun protection factor (SPF) of at least 30, 365 days a year. You can also use a BB cream with an SPF.
Wear a hat with a wide brim and clothing that covers as much of your body as possible.
Remember to use lip balm that contains sunscreen.
Stay away from tanning salons!
Is getting rid of them an option?
Once you have deployed all the necessary preventive measures, you can start thinking about ways to reduce or, better yet, eliminate these spots altogether.
There is a wide array of dermo-cosmetic products that prevent signs of skin aging, with some formulated specifically for age spots. Certain dermo-cosmetic lines even offer a complete beauty routine with a cleansing cream, an intensive dark spot correcting serum and a dark circle corrector, for both blue and brown under-eye circles. There are also moisturizers that combine a spot-correcting complex with sun protection to help treat and prevent the appearance of dark spots.
To learn more about the best product for your skin type, and maybe even have your skin analyzed, speak with your Uniprix beauty consultant.
On your next visit to the pharmacy, you can also look for products containing these main active ingredients:
Over-the-counter dermo-cosmetics
PhE-Resorcinol
Lipo-Hydroxy-Acid (LHA)
Glycolic acid (AHA)
Hydroquinone
Ascorbic acid (vitamin C)
Kojic acid
Prescription products
Retinoid acid
Products with a higher concentration of active ingredients
These creams reduce the production of melanin (which causes hyper-pigmentation), stimulates exfoliation and promotes cellular renewal. Generally speaking, the effects can be seen after a few months of use. Some brands say results can occur in as little as 4 weeks when the product is applied on a regular basis.
For faster results, specialized clinics also offer additional solutions, including cryotherapy (liquid nitrogen), laser or intense pulsed light treatments. Ask your dermatologist about these options.
Pharmacy services
Your dermo-cosmetic consultant can help you choose a product to prevent and treat age spots. Speak with her for advice on your next visit!  
Looking for more helpful health and beauty tips? Interested in receiving special offers? Click here and sign up for our newsletter today.