Ah menopause! You tell yourself that the fine lines around your eyes and mouth reflect your joys and laughter throughout the years. But then your face also begins to lose volume or change shape. Fortunately, it's never too late to tackle these issues!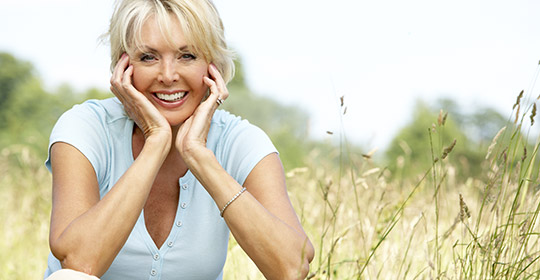 The effects of menopause
For many women, the shifting hormone levels in menopause lead to significant changes that include much lighter sleep, weight gain, urinary issues, an increased risk of developing certain diseases and, of course, modifications in the epidermis, such as:
Dehydration and dryness
Loss of tone and definition
Loss of elasticity
Increased, more pronounced wrinkles
More brown spots

Too late to act?
Great news! It's never too late to counter the effects of menopause on our skin! Here are a few tips.
Choose nourishing skin care products, which stimulate cell renewal and contain filler agents adapted to mature skin.
Don't forget your neck, décolleté and hands.
Improve your skin tone by massaging your skin when applying moisturizer.
Protect yourself from UV rays every time you go outdoors, since 90 percent of skin aging is caused by the sun.
Remove your makeup every single night; use non-irritating, alcohol-free products.
Quit smoking to regain a luminous complexion and halt the appearance of lines around your mouth.
Adopt a healthy lifestyle: sound eating, adequate sleep and exercise.
What about facial massages?
In addition to helping you relax, a facial massage can stimulate blood flow, help your products better penetrate the skin and tone the epidermis. There are a variety of different techniques. Here's one:
With bent fingers, gently massage your cheekbones starting from the nose and moving up to the hairline, near the ears. Repeat five times.
Use the same technique along your jaw line. Apply gentle pressure starting from the middle of your chin and move upward until you reach behind the ears. Repeat five times.
Still using your fingers, massage your neck starting at the top and work your way down. Repeat five times.
Pharmacy services
For an analysis of your skin and recommendations on the products best suited to meet its needs, speak with your beauty consultant. She will be more than happy to help!  
Looking for more helpful health and beauty tips? Interested in receiving special offers? Click here and sign up for our newsletter today!