From the moment you got pregnant, your body began to undergo transformations. Your figure filled out and your skin changed due to the extra weight and hormones. Stretch marks, pigment spots, acne…is it possible to keep skin looking healthy during pregnancy? Yes it is! There are many simple, effective ways to preserve your skin's beauty, tone and elasticity.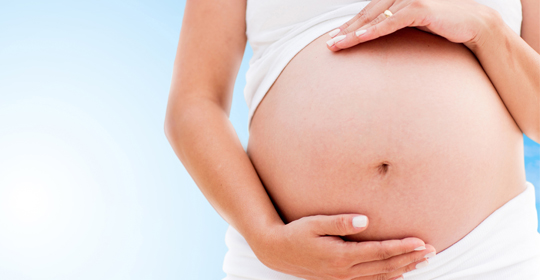 What are the basics of maintaining healthy looking skin? 
Keeping your skin beautiful during pregnancy is not rocket science. You simply need to moisturize your face and body every day, eat a healthy diet, drink plenty of water and avoid prolonged sun exposure as much as possible. Following these few rules is your best bet to preserving the health of your skin. 

How can I reduce the risk of stretch marks? 
For many women, stretch marks are a source of concern. They are generally associated with rapid or excessive weight gain. 
Several products can be used to reduce the risk of stretch marks and restore skin's elasticity. Body butters and nourishing oils formulated with sweet almond or grape seed are good choices. Special stretch mark creams, which generally contain collagen, elastin and vitamins (A and E), are another option.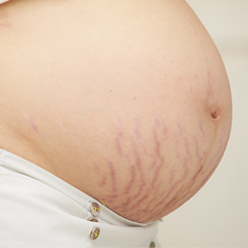 Important! 
Certain skin care products are contraindicated during pregnancy due to their ingredients. For example, any of the retinoids, such as retinol, should be avoided. If in doubt, ask your family pharmacist for advice. But rest assured that the majority of body care products, such as makeup and sunscreen, are perfectly safe for pregnant women. 
How can I keep my bust firm? 
As your pregnancy progresses, your breasts will become heavier. A bra with good support and exercises to strengthen the pectoral muscles are highly recommended. Try this one: With elbows raised, press your palms together and hold a few seconds; release and repeat. Do this every day.
  
If your bust lacks tone, you can also try a firming body milk. Another easy, affordable trick that works is to end your shower by rinsing your breasts under cool water. 
You will also need to take special care of your nipples, which tend to crack during pregnancy. Avoid washing them with soap and, if necessary, apply oil or moisturizer.
Can you prevent a pregnancy mask? 
Between the 16th and 24th week of pregnancy, some women develop what is called chloasma or, if you prefer, a pregnancy mask. Generally located on the forehead, cheeks and upper lip, these dark spots are caused by a combination of sun exposure and hormones.  
Here are ways to prevent a pregnancy mask: 
Limit your exposure to the sun as much as possible 
Apply a good quality sunscreen every time you go outside
Wear a wide-brimmed hat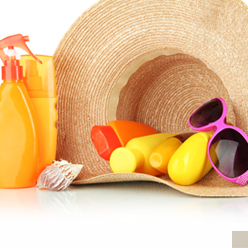 You'll be happy to know that pregnancy masks normally go away on their own a few months after childbirth. If you'd like to speed up the process, you can try peelings, exfoliation and creams and serums for dark spots. To eliminate more stubborn spots, you can also use a skin lightening product. Before choosing any treatment, it is best to consult a dermatologist. And always carefully follow the directions for use.
What can I do about acne breakouts?
Hormonal changes during pregnancy can trigger acne breakouts. Before starting a treatment or using any acne product, you must absolutely speak with a health care professional. Your family pharmacist is a great source of information in this respect. Just ask! 
Pharmacy services
Do you have more questions on skin care during pregnancy? Speak with your dermo-cosmetic consultant or your family pharmacist. They will be more than happy to help!