Mineralizing water is a type of thermal water with a very high mineral content that provides skin with a whole host of benefits. Learn more about thermal water in general and the special features of mineralizing water.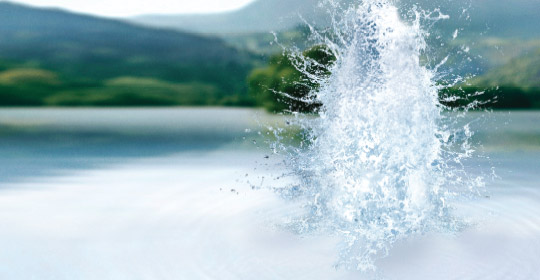 Where does thermal and mineralizing water come from?
Thermal water comes from hot springs that flow deep underground through rocky terrain usually below volcanoes. As it makes its way through the rock formations, the water picks up minerals and trace elements.
Each kind of thermal water has its own unique composition that reflects the nature of the rock formations through which it has flowed. Some types have one or two specific minerals (e.g. calcium, magnesium, selenium), while others contain a much wider range. Mineral concentration varies significantly from one spring to another.
Mineralizing thermal water is one of the richest in terms of the quantity of essential minerals – about 15 – and their quality – concentrations of 5.2 g per litre.
There are thermal water springs all over the world, but most of those used for cosmetics are located in Europe. The extraction process there is governed by strict regulation that guarantees the water's purity and pristine state.
What are the benefits of mineralizing water?
Thermal water is known for its softening, soothing and hydrating properties, making it an excellent choice for all types of skin, even the most sensitive. The composition of minerals and trace elements will determine a thermal water's specific properties.
Given its diverse blend of minerals, mineralizing water helps to restore skin's pH, stimulate its immune function and strengthen its natural barrier. Skin is then better equipped to fend off its many environmental aggressors, such as pollution and UV rays.
Adding mineralizing thermal water to your routine
Many cosmetics contain thermal water – from moisturizers to eye creams, anti-aging creams and even sunscreens.
As a product add-in, thermal water plays a supportive role for other active ingredients. However, due to its mineral-rich composition, mineralizing water can also be a star active ingredient as a standalone. Until recently, it could not play this leading role since it was difficult to integrate it into skin care products in sufficient quantities.
After much research, scientists successfully created a gel made with 89% mineralizing water. To further enhance its benefits, they combined it with hyaluronic acid, an ingredient recognized for its strong moisturizing power.
The gel was formulated for daily use as part of a basic routine. With regular use, it hydrates skin and fortifies its natural defences. It can also be associated with other products formulated for specific skin care issues, such as acne or signs of aging. Such products contain mineralizing water, but in a lower concentration than the gel (as a complementary ingredient). With this type of routine, your skin can take advantage of the moisturizing and fortifying properties of mineralizing water every step of the way!
Pharmacy services
Choosing the right line of skin care products is not always an easy task. If you need help, just ask your beauty consultant. She'll be more than happy to assist you in selecting the right products.
Troubled by rosacea, acne or other skin problem? Speak with your family pharmacist for valuable advice on the best treatment options.
Looking for more helpful health and beauty tips? Interested in receiving special offers? Click here and sign up for our newsletter today.