Makeup, even when applied sparsely, should always be removed at the end of the day. In fact, any good nighttime beauty routine should start with a thorough cleansing of all traces of cosmetics. This allows pores to breathe freely and promotes cellular renewal by eliminating dead skin cells.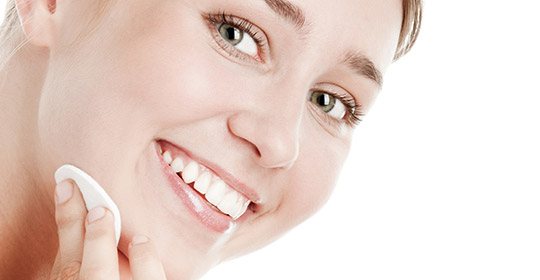 Types of facial cleansers
Cleansing milk, cleansing oil, micellar water, mousse and cleansing cloths are some of the makeup removers you'll find on store shelves. Let's see which one is best for you based on your skin type.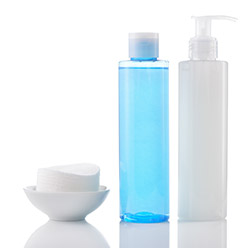 Cleansing milks — for dry and normal/combination skin
Gentle and moisturizing, cleansing milks are applied to the skin and removed with a dry or moist cotton ball or pad. They can also be rinsed off with water. Follow with toner, which you apply with a cotton pad. This will keep skin from feeling tight and dry. Avoid alcohol-based toners, as they are far too potent for this skin type.
Cleansing oils — for dry and sensitive skin
Cleansing oils do not produce a greasy feel, since the plant-based oil they contain blends together perfectly with warm water and rinses off. Here is the technique used by the pros: with dry hands, apply a few drops to your face and massage (without water). Don't forget your eyelashes. Add a few drops of warm water to lather and rinse thoroughly.
Micellar cleansing water — for oil-prone skin
Micellar water both cleanses and tones the skin. Simply apply with a cotton pad. No rinsing is required. It can be used at night to remove your makeup and in the morning to freshen your skin.
Cleansing gels — for combination and oily skin
Gels are meant to be used on damp skin. They provide deep cleaning and leave skin smooth and even. Rinsing is required.
Cleansing mousse— for oily and acne-prone skin
Mousse is applied on wet skin to lather well. The only drawback with mousse is that it can leave skin feeling dry.
Cleansing cloths
Cleansing cloths are super convenient and a great option when you travel, when you're short on time or when you simply don't feel like washing your face.
Facial cleansing accessories
Facial cleansing accessories, such as rotating brushes, vibrating brushes and Konjac sponges, are increasingly popular these days. Used in combination with your regular cleanser, they provide deep cleansing, stimulate blood flow and exfoliate – all at once! If you have sensitive skin, ask your beauty consultant for help choosing the type of brush that will be suitable for you.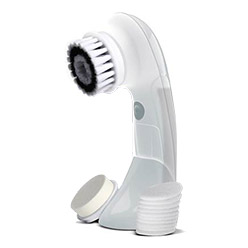 Pharmacy services
If you have questions on skin care and makeup removal, speak with your dermo-cosmetic consultant. She has been specially trained to give you the right advice!