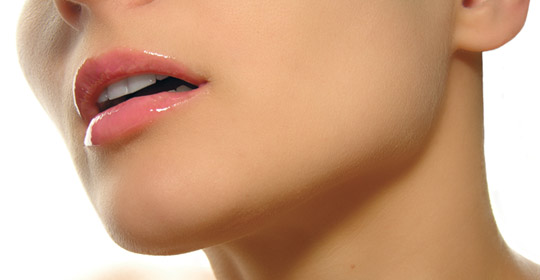 Lips that are not properly hydrated every day will quickly become dry, cracked and chapped, especially once the cold fall and winter weather hits. So here are some tips to keep your pout silky smooth all year long.
 
Why are lips so delicate?
The skin on our lips is structurally different from the skin found on the rest of the body. It is very thin, sensitive and devoid of sweat glands and oil glands, which produce the hydrolipidic film that protects and lubricates regular skin. Lips also contain very little melanin, making them more prone to damage from the sun's UV rays. These factors explain why they are more vulnerable to harsh elements, such as cold, wind, sun and dry air, and also why they need specific care.
 
Golden rules of lip care
Don't lick your lips
When our lips feel tight, we tend to lick them in order to moisten them with saliva. Break this habit now! It will only make your lips drier, creating a vicious cycle you want to avoid.
 
Don't pick– exfoliate!
It may be tempting to pick at those tiny, unattractive flakes of skin on your lips. Bad idea! You risk making things worse by causing even deeper cracks. The solution is gentle exfoliation.  There are easy-to-use exfoliants made specifically for lips; you simply apply them like lip balm and rub your lips together for a few seconds.

Quick Tip!
You can exfoliate your lips using a soft-bristled toothbrush dipped in lukewarm water or a mixture of honey and sugar. You then just gently run the brush over your lips.
 
Choose the right balm
You should always have on hand a good moisturizing lip balm. Use it regularly, as often as needed. Look for ingredients such as shea butter, cocoa butter, grape seed oil, honey, vitamin A and vitamin E. If you plan on spending time outdoors, make sure your lip balm contains a sunscreen.

Here are a few good picks you can find at your pharmacy: EOS lip balm, Rêve de miel lip balm by Nuxe, Ceralip replenishing lip cream by La Roche-Posay and Capital soleil lip protection SPF 20 by Vichy.
 
Cover all your bases
Once your lips are exfoliated and well moisturized, it is time to enhance them with lip gloss or lipstick. Again, if your lips are especially prone to dryness, choose a lip gloss or lipstick with special moisturizing ingredients.
 
Try an overnight lip fix
We all know the benefits of a good night's sleep. This extends to lips too! Apply a generous coat of petroleum jelly to your lips before going to bed and you will wake up with a fresh, dewy pout!
 
Fill in the lines
Over time, the lip contour tends to show signs of aging. You can diminish the look of fine lines with specific products formulated to smooth, firm and plump this area.

Keep on smiling!
 
Pharmacy services
For valuable lip care advice and product tips, speak with a Uniprix beauty consultant.