According to some, feet may not be the most appealing parts of the human body. So if you want to show them off, better make sure they are impeccably groomed.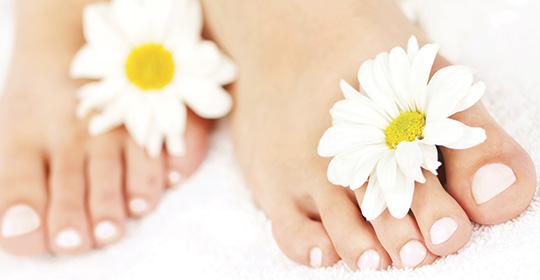 Our poor, neglected feet
Let's face it, we often give our feet a hard time. We squeeze them into tight shoes, perch them on high heels or stuff them into footwear with inadequate arch support. And in the summer, we walk around barefoot on all sorts of rough terrain. All of this adds up to corns, calluses and cracked skin.
Calluses are areas of thickened, hardened skin of varying shapes and sizes. They form on the soles of the feet, usually in the front or on the heels, as a result of friction or undue pressure.

Corns  are well-defined, cone-shaped areas of hardened skin that develop on the soles of the feet and between or on the toes. They are smaller than calluses and can be painful. Their removal sometimes requires the intervention of a podiatrist.

Cracked skin generally affects the heels and sides of the toes. It is due to dehydrated skin.

Steps to beautiful feet!
If the harm has already been done, don't worry! An express pedi will solve all your foot woes, so you can stop suffering and start baring them with pride. Here are the 3 easy steps to get you there.  
1. Soak  them. Immerse your feet in a tub of warm water for 15 minutes or so. This will soften the skin and make exfoliation easier. You can also add a few drops of emollient oil for extra moisture.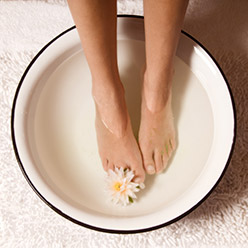 2. Exfoliate… no more than twice a week. Using an exfoliating file, pumice stone or electronic foot file, also known as a battery-operated foot smoother (see photo below), gently exfoliate the areas where you find calluses, corns and cracked skin. Avoid healthy skin. Products containing salicylic acid, which are available without a prescription, can also help to eliminate corns and calluses.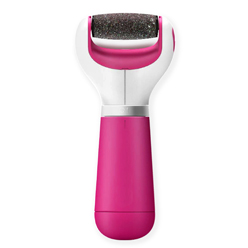 3. Moisturize… every single day. Feet, like the rest of the body, need to be moisturized daily. Regular body lotions usually cannot penetrate the soles and heels of the feet. It is best to use a cream specially formulated for feet. If cracked skin is a problem for you, try a product with urea or lactic acid, Pentavitin® or Hydramine® (available over the counter).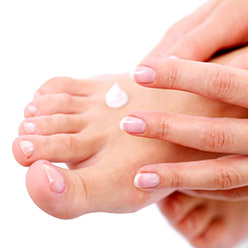 Important!
Do not try to remove corns and calluses with a sharp instrument, such as a razor blade or nail clipper, especially if you have diabetes.
If you are diabetic, you should also consult your doctor before using an electronic foot file (battery-operated foot smoother). 
Walk away from foot problems
Choose proper footwear (rounded toe, low heel and made with material that "breathes" like leather or canvas).
Use protective cushions.
Avoid walking barefoot, even at home.
If you experience pain or persistent issues with your feet, consult a qualified health professional: a doctor, podiatrist, foot nurse, etc.
The final touch
Once your feet have been well pampered, you can move on to the final touch: your toenails!
File your nails to even them out and avoid painful ingrown toenails. 
Gently buff the surface of your nails to leave them soft and smooth. 
Polish them for more shine. 
If you want, apply clear or coloured nail polish to brighten them up!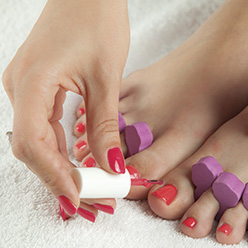 At Uniprix, you'll find a wide selection of nail products for both hands and feet. Some can file, buff and polish thanks to their removable heads and, since they are battery-operated, they offer two speeds for more control and optimal results. Your Uniprix beauty consultant will gladly help you select the perfect product for you. Just ask!
Pharmacy services
You'll find a wide range of foot care products available over the counter. They are effective and safe when used as directed, but may not be suitable for everyone, particularly if you are diabetic.
 
Before using a foot care product, ask your family pharmacist for advice on its use, precautions to take and contraindications.