Most of us wash our face before going to bed. But did you realize that regular exfoliation is just as important as cleansing? In fact, it should be a regular part of your beauty routine. Learn about the benefits of exfoliation and the different types (physical versus chemical), so you can choose the one that will suit you best.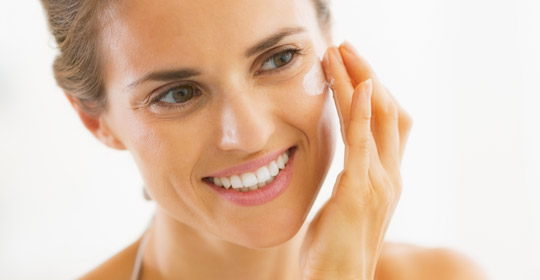 Why exfoliate?
Exfoliation dislodges dead skin cells, removes part of the top layer of the epidermis and helps to maximize skin renewal. Benefits include:  
Tighter pores
More radiant and even skin tone
Exfoliation, scrubs, microdermabrasion and peels
Physical exfoliation
Exfoliation consists in the deep cleansing of the skin with a cream, gel or milk that contains small beads. It involves massaging the entire face with these products using a circular motion to help loosen dead skin cells. The exfoliator used should be gentle and made of small particles that can easily penetrate deep into the pores.
The term scrub is a synonym of exfoliation. Both terms refer to the same procedure.
Microdermabrasion is a type of mechanical exfoliation aimed at "sanding" the face with abrasive micro-particles (aluminium oxide micro-crystals, sodium bicarbonate crystals, etc.).
Chemical exfoliation
Chemical exfoliators remove the build-up of dead cells from the surface of the skin with a concentrated acid solution; an AHA solution (or fruit acids), usually glycolic acid, or a BHA solution (e.g. salicylic acid). Around age 25, the skin's natural renewal process begins to slow down. Chemical exfoliation allows the skin to shed its superficial layers of dead cells so that new, healthier ones can come to the surface more evenly and at a faster rate.
A peel is a chemical exfoliation performed by a dermatologist using a highly concentrated acid-based product.
The properties of glycolic acid
It is derived from sugar cane and is very gentle on skin.
The small molecular size of the alpha hydroxyacids (AHAs) it contains means maximum penetration into the skin, making it the most effective of the AHAs.
It is highly discriminatory, since it acts only on dead cells.
Who should exfoliate?
Exfoliation (or scrubs) is for all men and women who want to have a well-rounded skin care routine, a radiant complexion and tightened pores. But it is not for those with sensitive skin.
Microdermabrasion is suitable for men and women with a dull, rough complexion who are looking for an instant boost.
Because they work at a deeper level, peels and chemical exfoliators containing ingredients such as glycolic acid are recommended for women over 35 who have:
thick, acne-prone skin
enlarged pores
an oily or dull complexion
fine lines and wrinkles
Creams and lotions with different concentrations of glycolic acid and encapsulated glycolic acid are available for every skin type, even sensitive skin.
Pharmacy Service
Do you have questions on skin care? Talk to your beauty consultant. She will help you choose the best products for your skin type and lifestyle.