Well-known for her role as a "dragon" in the hit television show Dans l'œil du dragon (the French counterpart of Dragon's Den), airing on ICI Radio-Canada since 2012, entrepreneur Danièle Henkel knows all about making a name for herself in the wide world of medical cosmetics.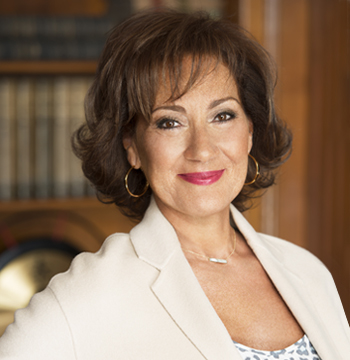 The secret to her success in business? Her amazing intuition and her gift for picking the right partners! We caught up with Danièle to find out why she chose to launch her Daniele Henkel to go concept exclusively at Uniprix in many of our affiliated stores .
Can you start by telling us about the Daniele Henkel to go concept?
DH  - It's a great service that gives both men and women access to anti-aging treatments delivered by highly trained professionals using state-of-the-art equipment from Europe. The sessions take place right in the comfort of Uniprix* dermo-cosmetic centres for an exceptionally relaxing moment of self care.

ENDERMOLIFT by Daniele Henkel to go is a completely safe procedure:
100% natural
No surgery, no injections
Painless
Risk-free
Here are some of the benefits you can expect from the treatment:
Denser skin
Increased production of collagen and elastin
Replenished lines and wrinkles
Revived eye area
Slimmer double chin
Plumper lips
In today's fast-paced world, clients will no doubt appreciate finding this type of service at their local pharmacy, a place they visit on a regular basis.
Why choose Uniprix-affiliated pharmacies?
DH  - It's a lot like Dragon's Den – it's for a combination of reasons! The Uniprix Group and its managers are dynamic, driven to reinvent the retail pharmacy market and committed to offering their clients innovative services, with a team of dedicated pharmacists and qualified beauty consultants.
How are consumers enjoying the service?
DH – It was launched just a few weeks ago in several Uniprix-affiliated stores and consumer response has been phenomenal!
Clients are pleasantly surprised at the privacy of the in-store service and the high quality of the treatments ensured by specially trained and certified beauty consultants.
After their first treatment, people are so thrilled with the results they often book their next appointments on the spot or decide to treat a loved one to a session.
Have the results of ENDERMOLIFT been scientifically proven?
DH – Yes! It is the first and only technology in the world scientifically proven to increase the natural synthesis of hyaluronic acid by 80 percent. It has also been found to increase elastin synthesis by 46 percent, improve radiance by 98 percent, smooth wrinkles by 21 percent and boost firmness by 23 percent, while reducing collagen degradation and stimulating the production of new collagen, according to a study by Pr. Philippe Humbert*.
 
*Humbert P. et al. Evaluation of the potentiating effect of a cosmetics line combined with lift massage treatment. Study conducted on 10 healthy subjects treated on half of their face. 2014 Report.
Pharmacy services
To take advantage of the youth-restoring facial treatments by Daniele Henkel to go, speak with your Uniprix beauty consultant. She will be more than happy to answer all your questions.
Looking for more helpful health and beauty tips? Interested in receiving special offers? Click here and sign up for our newsletter today!