Best options for bikini line hair removal
When it comes to hair removal in the delicate bikini area, you have several options, not only in terms of the methods available but the styles too!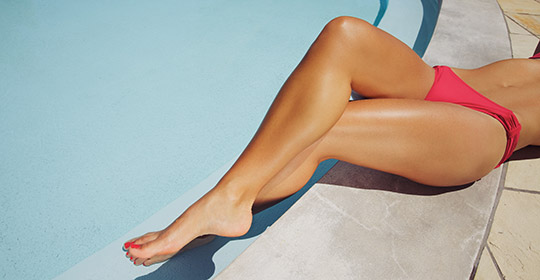 Bikini line styles
These days, even the bikini line is subject to styles and trends. Hair removal in this area gets rid of unwanted hair, enhances comfort and hygiene and even allows us to express ourselves in our own unique way by choosing from the various styles available. Here are just a few:  
Classic. This style involves removing all pubic hair outside your standard panty line (the sides and upper thighs) for a neat, natural result. The hair can also be trimmed.
American. In addition to the upper thighs and sides, the American style calls for the removal of the hair along the labia, creating a smaller or larger rectangle.
Brazilian. For this style, pubic hair is removed to form a small triangle. This generally includes the removal of hair from the labia as well. With the Brazilian, you can wear high-cut panties and bathing suits without the risk of any stray hairs peaking out. 
Full bikini. As the name suggests, the full bikini involves the removal of all pubic hair (pubis, labia, upper thighs).
Personalized. You can get creative with a personalized design. Have the hair in your nether region shaped into a heart, butterfly, star, flower or even initials.
Before making your choice and diving in, keep in mind that some styles require more upkeep than others. Some can easily be done at home, while others are more difficult to do yourself.
Hair removal methods
As is the case for legs, pubic hair can be removed using different techniques. Shaving, depilatory creams, waxing, sugaring, electric, laser or pulsed light epilators – the options are many. When choosing one, consider the following factors:
Your pain threshold
The amount of time you have
The level of skill required (if doing it yourself)
Your budget
Pre- and post-care
With any hair removal method, you will need to take great care of your skin before, during and after. A word to the wise: women tend to be more sensitive to pain during their periods, so avoid hair removal during that time.
The night before, gently exfoliate the bikini area to eliminate all dead skin cells and remove any ingrown hairs. If you have opted for depilatory cream, waxing or sugaring, be sure to perform the patch test recommended by the manufacturer to avoid an allergic reaction.
Before:

Start by taking a shower. This will reduce the risk of infection, eliminate all traces of moisturizer and dilate your pores in order to facilitate the procedure.
If you want, you can numb your skin. Here are ways to reduce the pain:

Apply an cold compress to the area for a few minutes. Repeat as needed during the process.
Apply a numbing cream one hour before. While it is available without a prescription, it is kept behind the counter. Ask your family pharmacist for it. 

Steps for DIY hair removal:

Find a comfortable position, preferably sitting down.
Place a mirror in front of you.
Follow the manufacturer's directions.
If using a razor, wax or electric epilator, hold your skin taut with your free hand.
If waxing:

Sprinkle talcum powder on the area you are going to wax. This helps improve the adherence of the wax to the hair.
Test the heat of the wax before application.

Never apply depilatory cream to mucous membranes.

After, wash the area and moisturize it well to soothe the skin and prevent tightness.
As a general rule, do not go out in the sun immediately after. Hair removal is best done in the evening. That way, your skin has time to recover before being exposed to UV rays.
Pharmacy services
For more advice, drop in and speak with your Uniprix beauty consultant. She will be more than happy to help!
Looking for more helpful health and beauty tips? Interested in receiving special offers? Click here and sign up for our newsletter today!