Our hands are always busy, never idle; they cook, clean, garden, point in the right direction, greet, caress and pamper. And just like you, they deserve a little coddling after a hard day's work! Why not try a home manicure? You'll see that having beautiful nails is not that difficult with a few tips from the experts. So go ahead, give your hands the royal treatment!
Manicure basics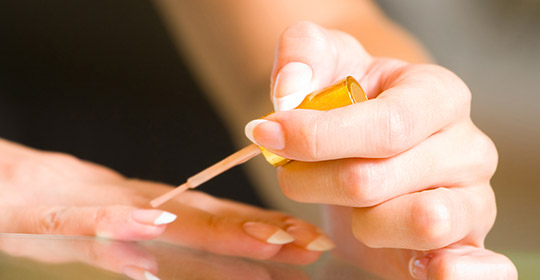 Having gorgeous hands begins, first and foremost, with regular, attentive care. Make sure you use hand lotion after washing your hands. And, once a week, exfoliate them before applying your moisturizer. Certain creams available on the market are especially formulated to strengthen nails. Look into it!
Expert tips for a manicure that lasts
Using long-lasting or chip-free nail polish is one way to ensure your manicure will stand the test of time. But there are other things you can do to keep your nails looking pretty, longer (and avoid the hassle of redoing them every two days). Here are a few helpful hints.
Groom your nails. Are they soft, dry or splitting? Between manicures, apply a specific treatment (e.g. nourishing or hardening polish).
File them every week. Wear them neither too long nor too short and file them (always in the same direction) once a week. This will keep them from bending and breaking and help your nail polish hold longer.
Don't forget the cuticles. Gently push them back with an instrument made for this purpose. Never cut your cuticles!
Prep your nails before applying polish. To extend the hold of your nail polish and avoid chipping, wash your hands, do not apply lotion, dry them well and clean your nails thoroughly with a cotton ball soaked in nail polish remover.
Start by applying a clear base coat. It will bind with the coloured polish to extend its wear. It also keeps nails from yellowing and the colour from spotting. Let dry completely before going on to the colour application.
Apply 2 to 3 thin coats of nail polish. For even results, remove any excess polish from the brush, position it in the centre of the nail and apply from the cuticle to the tip (even extending slightly underneath the tip of the nail if needed).
Wait until each coat is totally dry before moving on to the next one. You can tell nail polish is dry when you press down with another nail and it leaves no mark.
Don't forget the ultimate expert secret, the protective top coat. It can double the wear of your coloured polish. And if you're using an extended hold product, the results will last even longer!
Miscellaneous tips
For more durability:
Don't use nail polish that is more than two years old;
Wear rubber gloves when doing household tasks that involve contact with water;
Choose a long-wear or chip-free nail polish.
For quicker drying:
Use a hair dryer set on cool or a nail dryer;
Soak your nails in a bowl of cold water for five minutes;
Choose a quick-drying coloured polish and protective polish;
Apply a "drying accelerator" (in spray or drop form).
Pharmacy services
Ready to give it a try? Drop by your local Uniprix and talk to your beauty consultant. She can help you find and choose all the products and accessories you need.
Looking for more helpful health and beauty tips? Interested in receiving special offers? Click here and sign up for our newsletter today!