Most children love to put on costumes and have their face painted. Whether it's for a birthday, school party, Halloween, or just to brighten an otherwise cloudy day, all you have to do is let your imagination and artistic talent run free and you can create makeup looks that are sure to please. Here are a few tips and tricks to help you get started!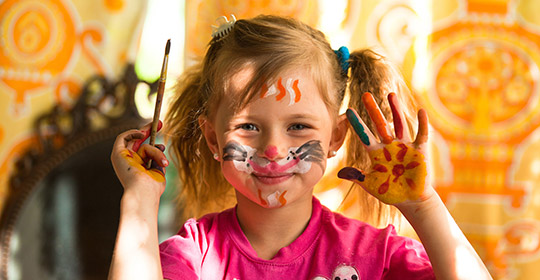 At Halloween, makeup or mask?
Makeup, of course! Not only is it loads of fun, it's also safer. In fact, masks are often uncomfortable and can even be dangerous, since they prevent children from seeing properly. Accidents happen so fast; it's better to be safe than sorry!
Expert face painting tips
Here are some of our best tips on creating incredible Halloween makeup looks.
Start by rummaging through your own makeup bag. You might find a lipstick, gloss, blush or eye shadow you no longer use! But remember that mascara on children is never a good idea.
You can also purchase non-toxic, hypoallergenic, water-soluble makeup designed specifically for this purpose.
Prepare children's skin by applying a moisturizer over their faces. This will:

protect the skin;
make the makeup pencils glide more easily; 
facilitate the removal of the makeup at the end of the evening (makeup removal cloths are the best for this job).

Use synthetic makeup sponges to cover the larger surfaces with a basecoat. Fine, narrow and angled brushes are great for precision work and small details.
Start with lighter colours and end with darker ones.
Do some prep work: for example, use a makeup pencil to dot out the outline of your shape. Then, just connect the dots into a line to create your design.
To apply makeup to young children, set up shop in a quiet place, without distractions. For very young children, choose a design that takes only minutes to do and avoid the eyes and mouth.
For convenient Halloween makeup products at affordable prices, visit your nearest Uniprix store. You'll find special Halloween makeup (pencils, creams, etc.), as well as fantastic accessories in the cosmetics section (false eyelashes, powder, fake nails and glitter eyeliner). For realistic, head-turning results, choose colours that match the child's costume. 
Need suggestions? We got 'em!
Are you short on inspiration? Here are a few easy designs that are bound to delight your little ones: a wicked witch, a scary skeleton, a beautiful butterfly, Spiderman or a cute Dalmatian.
Witch
Step 1
Mix a bit of black with some white to get a light grey.
Step 2
Using a sponge, apply the grey over the entire face. Add a bit of black over the eyes and under them to create dark circles. Draw wrinkles on the forehead.
Step 3
Emphasize the eyebrows. Colour the lips in black.
You can also go for a more subtle look by mixing light green and white for a paler complexion. Follow with mauve on the eyelids and cheeks.
Skeleton
Step 1
Apply a thick layer of white over the entire face.
Step 2
Draw black circles around the eye area and fill them in.
Step 3
Using a brush, draw a square jaw with teeth around the mouth
You can draw lines on the forehead using a combination of red and black, and use grey (black+white) to add contour and create hollow cheekbones.
Butterfly
Step 1
Using a black liner, draw the butterfly's head and antennae on the child's forehead. Then, draw the insect's body on the child's nose. Trace the contours of the upper wings around the eyes and the lower wings on the cheeks. They can even go down to the chin, if you wish.
Step 2
With a white liner, make another line inside the first black line to give the impression of light and soften the contours.
Step 3
Using cream makeup in a colour of your choice, fill in the wings. Add colourful motifs in the centre of the wings.
Step 4
Sprinkle some glitter over the face. Egg white or glue for false eyelashes can be used to paste the glitter.
Spiderman
Step 1
Draw red lipstick lines over the entire face and blend with your fingers.
Step 2
Using a black liner, draw the webbing, making pie wedges starting from the nose. Finish the spider web by outlining the face with curved lines.
Step 3
Draw a spider: 1 small circle for the head, one big circle for the body and 4 legs on each side.
Dalmatian
Step 1
Using a sponge, cover the entire face with white makeup. If you don't have a white cosmetic liner, use a light foundation and make a tan-coloured dog.
Step 2
With black liner, draw a nose, mouth and whiskers.
Step 3
Draw a black spot around the eye, fill it in, and add other smaller spots of various sizes all over the face.
Pharmacy services
Looking for specific products? Drop by for a visit and talk to our beauty consultants. They're there to help!