What you need to know about buying and storing perfume
In the vast and subtle world of eaux de toilette and perfumes, it can be tricky to find the fragrance that meets your every whim and fancy. That's why we offer you these ten tips and guidelines to help you select the enchanting scent you'll want to bring home.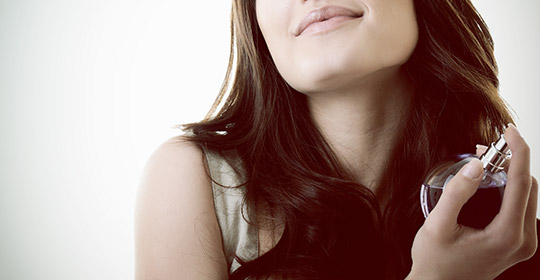 1. Test fragrances in the morning, when your sense of smell is most acute and before the store has been overexposed to various scents.
2. Do not let yourself be overly influenced by the shape of the bottle, name of the fragrance or celebrity endorsement.
3. Avoid wearing creams and other scented products when trying perfume.
4. Do not spray perfume on your jewellery. Metal tends to make skin more acidic, altering the scent.
5. Limit yourself to three perfumes at a time - to avoid overwhelming your sense of smell.
6. Spray the fragrance on your pulse points: neck, nape of the neck, back of the wrists or behind the ears.
7. Don't rub it in – the fragrance that is – by bringing your wrists together, for instance, as this destroys the olfactory pyramid.
8. Wear a test fragrance all day to take in the full extent of its top, middle and bottom notes. Some bottom notes can be noticed only after several hours, leading to a pleasant surprise – or otherwise!
9. Ask for feedback from friends and family.
10. Feel free to ask for samples.
How to store perfume
Many will stay true to the same perfume for several years, while others will change as soon as a new season rolls around. Some people even match their fragrance to their outfit, using it as a fashion accessory, or to the occasion.
No matter how you choose to wear your perfume, you definitely want it to last as long as possible. For that, you need to store it away from humidity, heat and temperature changes. If you do, you can expect your perfume to last from 1 to 3 years. Perfume can keep for years in an unopened bottle, but once it is opened and air gets into it, the perfume's potency can be altered.
Pharmacy Service
With these few tips in mind, you should be able to choose a perfume that suits your personality and your style. If you have any questions, talk to your Uniprix beauty consultant.
The information contained herein is provided for informational purposes only and is not intended to provide complete information on the subject matter or to replace the advice of a health professional. This information does not constitute medical consultation, diagnosis or opinion and should not be interpreted as such. Please consult your health care provider if you have any questions about your health, medications or treatment.