Beautiful wavy locks with a carefree, slightly messy feel in just the right places are not just for beach days anymore. Here is how to score this gorgeous go-to summer look!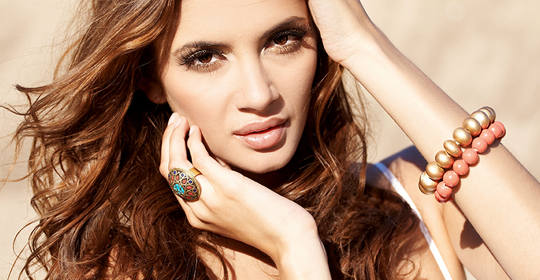 A breezy, wash-and-go style
For some of us, the look will be pretty much just wash and go, and for others, it will require only a few simple steps. The beauty of this style is that the curls don't need to be perfect. Here are two techniques you can try, depending on your skill level and the amount of time you have.
The fast-track technique
For sexy, tousled, super-model locks, tip your head upside down, scrunch your hair while it is still damp, using a texturing product to define the waves. Then, carefully separate each strand of hair with your fingers.
The slightly longer technique
If you have a bit of time, here is what you can do. Starting with wet hair:
Apply a volumizing or curl-enhancing product and, with your head slightly titled, gently dry your hair, carefully scrunching the strands with your fingers.
Once your hair is dry, part it down the middle and add some volume by backcombing from the roots.
If you want to further enhance the curls, divide your hair in 2 or 3 layers and make a few waves with a curling iron or curling wand, being sure to alternate the direction of each curl.
Run your fingers through your hair to separate the strands. Finally, to infuse your locks with the beach-like effect, add texture with a product specially formulated for this laid-back summer style.
Hot products
Many products are available to help you create beautiful beachy hair. Sea salt spray, paste, cream or gel made specifically for the job will leave your hair wavy, textured and matte.
Of course, you also need to protect your hair from damage caused by the sun, chlorine and sea. Fortunately, hair care products with UV filters, along with treatments and oils to repair your locks, are there to help.  
Accessorizing your look
More than any other season, summer is a time for relaxed, original looks. Use the opportunity to vary your hairstyles and play around with accessories! When it comes to accessorizing summer hair, the options abound: hats, headbands, scarves, flowers and more.
Think loose and casual: slicked-back ponytails, side flower braids, wide headbands with a few stray strands poking through and casual buns are good choices. Get creative!
Want to liven up your day or shine bright for a special evening? You can with new temporary hair colouring powders! Available in several vibrant or sophisticated shades, they are easy to apply and wash out under the shower. You can do just a few strands for a subtle pop of colour or go for a bolder look. Instant change without commitment!
Pharmacy services
Is summer your season of inspiration? Then drop by your local Uniprix! Your beauty consultant will help you find the hair care products you need.
Looking for more helpful health and beauty tips? Interested in receiving special offers? Click here and sign up for our newsletter today!