No matter your age, if you love all things beauty and lifestyle, you're probably always on the lookout for information on the best and latest beauty finds and trends.
The digital realm features a wealth of fascinating information, whether it's at uniprix.com, on e-versions of beauty magazines and, of course, on beauty blogs. Here are a few of our top picks.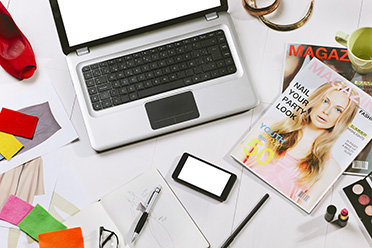 What is a blog?
Beauty blogs are online platforms where bloggers – beauty experts or self-proclaimed lovers of cosmetics, hair nails, etc. – share and exchange information with their subscribers.
Given their growing popularity and the fact that they are constantly solicited by brands, most bloggers have adopted an editorial policy that promotes transparency and objectivity.
Canadian bloggers even have their own recognition gala – the MIB Awards – to reward the best blogs by category.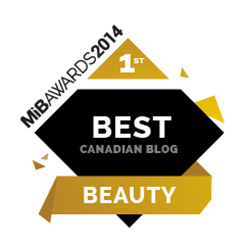 Our favourite beauty blogs!
Maquillage Cynthia
(In French)
Maquillage Cynthia is a comprehensive blog packed with quality information and a ton of how-to videos. Cynthia, a cheerful, endearing young blogger, covers a variety of beauty topics for women of all ages.
Professional makeup artist, turned YouTube partner, turned blogger, Cynthia Dulube has made a name for herself in the online world of beauty, with nearly 320,000 subscribers and over 35 million views on her YouTube channel. A leading reference in the industry, she delivers valuable advice on makeup, skin care, hair and fashion.
Cynthia is one of our favourite partners, too! She has worked with Uniprix on several of our beauty videos and shares insightful beauty advice on our Facebook page and in our cosmetic catalogues!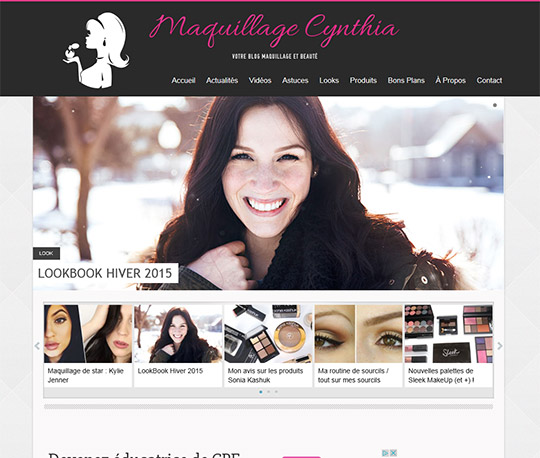 Blond Story
(In French)
Mellow and soothing like an afternoon by the fireplace with a hot cup of coffee and a great magazine, Blond Story is a blog about beauty, wellness, fashion, food and décor. With its relevant content and photo tutorials on a range of interesting topics, this blog will not leave you disappointed.
Its creator, Virginie Goudreault, is a young woman with a university degree in communication, writing and multimedia. She shares her top picks and small pleasures in a down-to-earth style, with her ultimate goal being to inspire others to adopt a healthy lifestyle. Blond Story has also recently launched its YouTube channel.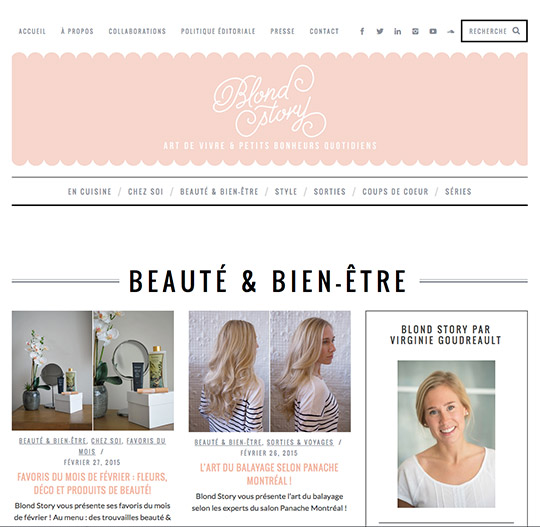 GLOSStoi
(In French)
Winner of the first prize in the Best Canadian Beauty Blog at the 2013 MIB Awards,
the GLOSStoi blog is the latest innovation to sprout from the GLOSStoi Website. Every week, a team of passionate, beauty-loving "glossers" go on a mission to share their hottest beauty tips and tricks and the occasional how-to videos on makeup, skin care, perfume, hair and more.
The goal of this blog is to create an interactive forum where consumers can rate their favourite and least favourite beauty products to help one another build the perfect cosmetic bag. It's a productive dialogue among ourselves!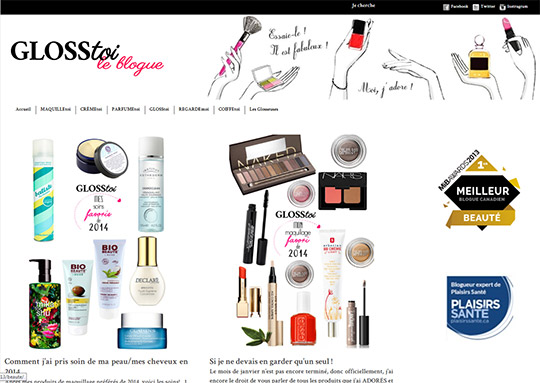 La P'tite Madame
(In French)
Fashion, beauty and everything lifestyle is what this blog by Marie Héroux (a.k.a. La P'tite Madame) is all about. A big fan of beauty blogs herself, Marie decided to launch one for all women, but more specifically for those over 40; after all, getting older does not mean getting dowdy!
In her early fifties and at peace with herself, Marie lets us in on her favourite picks, great finds, tips and beauty advice, all in a simple, straightforward style. Her blog is chic and features news on coming glamorous events that are sure to please the fashionista in you!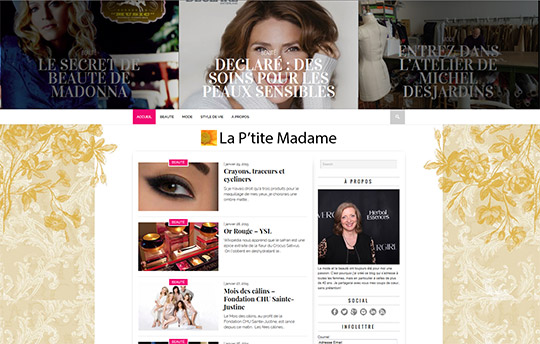 Ommorphia Beauty Bar
(In English)
Montreal-based beauty and photography enthusiast Eugenia Ragas is the writer behind Ommorphia Beauty Bar, a luxury blog showcasing the high-end brands we covet  – Dior, Yves Saint Laurent, Chanel, Guerlain, Giorgio Armani – and those we can afford!
Taking home the first prize at the 2014 MIB Awards, Ommorphia Beauty Bar presents and reviews makeup and dermo-cosmetic products she has tested, comments red-carpet fashion looks and discusses beauty-focused events she has attended. And did we mention the gorgeous, dreamy photos that spice up her blog? It's definitely worth a visit – or two or more!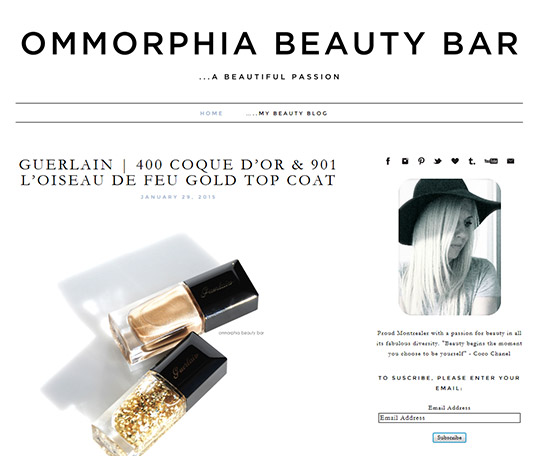 Pshiiit – Confessions of a nail polish addict
Finally, here's a fun, original little blog that will entertain you with its ultra feminine tone. It's dedicated solely to nailistas. That's right: it's for big-time fans of nail polish.
Pshiiit offers up a plethora of nail art, countless manicure styles, animated tutorials and videos, not to mention scores of hints, tips and pointers. A treasure trove of inspirational ideas! Plus, the newsletter is as sweet as candy. Just remember that since the blog is from France, not all products are available here.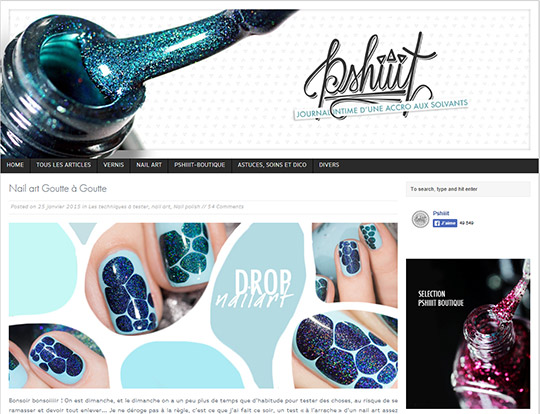 Pharmacy services
Do you love the world of beauty and cosmetics? Drop by for a visit at Uniprix. Your beauty consultant can help you find the products featured by the bloggers or similar ones, as the case may be.
Looking for more helpful health and beauty tips? Interested in receiving special offers? Click here and sign up for our newsletter today.