Believe it or not, even eyebrows are subject to fashion trends. From bushy to bleached, season after season, eyebrows serve to frame the face in style. Learn how to shape them, without batting an eye!
Eyebrow shaping 101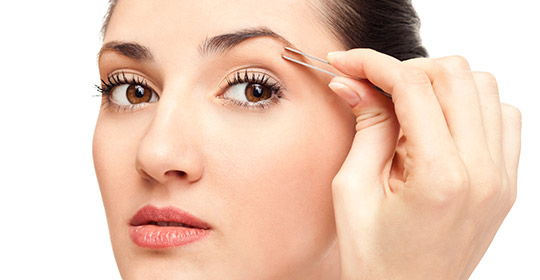 In your opinion, what is the biggest no-no when it comes to eyebrows? Over-tweezing, of course! So, what is the golden rule? Let the natural curve of your eyebrows be your guide. (To do so, you must start with a full brow).
A. Visualize an imaginary line from the outside corner of your nose to the inner and outer corners of your eyes. These two lines indicate where your eyebrow should start and end.
B. After smoothing the eyebrows with a small eyebrow brush, remove all hairs outside the defined area. Here's a tip: draw the contour of your eyebrows with a white pencil and then tweeze the hairs beneath and outside that line. (If tweezing is too painful, run an ice cube over your eyebrows to numb the skin.)
C. Never tweeze above the eyebrow.
The latest trends in eyebrows
Eyebrows, too, are influenced by trends! In fall 2009, thick, natural-looking brows were the big thing. On the opposite end of the spectrum, the bleached eyebrow was all the rage in spring and summer 2010. This fall, we'll see the return of the natural, yet well-defined brow line. It just goes to show how quickly things change in the world of fashion!
In our view, the classic, natural, well-maintained eyebrow is probably your best bet.
Pharmacy services
Need advice on how to tweeze your eyebrows? Looking to find the best tools for the job? Visit one of our Boutique beauté sections . Our beauty consultants are there at your service!