Regular nail maintenance helps keep them healthy and pretty, even if you prefer to go natural and polish free. It's an important part of any beauty routine! Here are the basic principles of proper nail care, along with a few tips for good measure!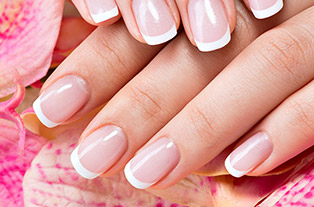 Natural texture and colour of nails
Keeping nails strong, supple, smooth, pink and healthy is actually not that difficult. In fact, there are many great products on the market that have been designed just for that. Your diet also plays a role in the condition of your nails, as do your daily habits.
•    Yellow nails? Applying a protective coat before nail colour prevents this problem.
•    Soft nails? Vitamins, calcium and mineral salts (iron, iodine, magnesium, silicon, zinc) are especially important for strong nails.
If needed, double up on your intake of brewers' yeast, seafood, fish or soy! You can also use a fortifying nail product or special nail polish made to strengthen keratin. Another trick is to wash your hands with cold water (rather than hot water).
•    Breaking, cracking or splitting nails? Use "strengthening" products (nail polish, polish remover, etc.). And never file your nails when they are wet!
•    Brittle nails? Use "nourishing" or "hydrating" polish. Acetone-free nail polish remover is also recommended, since it is less drying.
Good to know!
When you apply moisturizer to your hands, don't skip your nails! Massage them with the cream to keep them supple and prevent breakage.
Tools for trimming, filing and buffing
Trimming
•    To prevent nail damage and reduce the risk of injury, don't keep your nails too long, pointed or square. What's the best shape, you ask? Nails should follow the natural contour of your fingertip and measure no more than 1 cm. Remember also that it is better to file your nails, rather than trim them with scissors or clippers.
•    Never cut your nails too short (past the white line) or trim the sides, as this increases the risk of ingrown nails.
•    Unruly cuticles? Never ever cut them! They need to be softened (with a cuticle softener) and pushed back with a cotton swab or small wooden stick.
Filing
•    Avoid metal files (they cause tiny breaks in the nail, leading to splitting). Choose an emery board instead, or better yet, a glass nail file, which is the best suited to the regular maintenance of natural nails.
•    Filing motion: No back-and-forth, since this weakens nails. You should file in one direction only, starting from the outside and moving toward the centre of the nail.
Buffing
•    The buffing block is great for gently polishing nails (especially to get them ready for polish). It leaves them looking smooth, streak-free and shiny. For a glossy finish, you can also use the chamois buffer.  
Pharmacy services
Uniprix beauty consultants can give you plenty of tips on caring for your nails, not to mention advice on the full array of available products and tools. All you have to do is ask!