Right from birth, scents play a special role in our lives. Here's an overview of what aromatherapy – and more specifically essential oils – are all about.
What is aromatherapy?
Aromatherapy is the use of botanical essential oils for therapeutic purposes. It is a branch of non-conventional medicine that has been around for centuries.*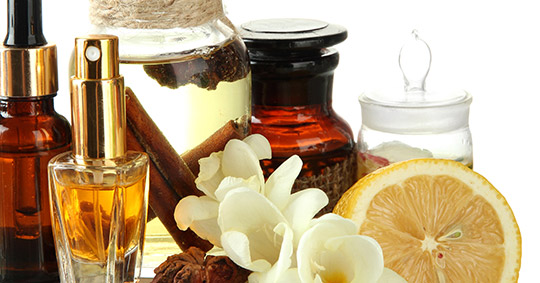 What are essential oils?
Essential oils are natural botanical extracts from:
plants
herbs
flowers
fruit
spices
Pure oils – those undiluted with other ingredients – are generally obtained through steam distillation. Despite their name, they are non-greasy and highly volatile. This means they gradually lose their properties and scent when exposed to air and do not stain or leave behind an oily residue. 
Some oils have antiseptic properties that fight viruses, bacteria, fungi and parasites, while others have therapeutic benefits against coughs, headaches, insomnia, anxiety, sinus infections, digestive problems and so on. Essential oils are also used for cosmetic purposes (hair and skin care) and for relaxation (massage).
Good to know!
Buyer beware! There are plenty of poor quality essential oils on the market today. For example, some are diluted with alcohol or vegetable oil, while others are synthetically produced. These do not have the same therapeutic value as pure essential oils. Remember that a good quality oil is expensive!
Before purchasing an essential oil, make sure it is a pure, high-quality product. A reputable oil will feature the following information on its label:
Scientific or Latin name of the plant;
Biochemical specificity (culture and place of origin);
Part of the plant used (leaves, bark, petals, etc.);
Instructions;
Expiry date;
AB designation (symbol indicating that the product contains at least 95% of organically grown ingredients);
DEMETER designation (organic certification attesting that all production and processing standards have been met);
Lot number.
How to store essential oils
Store your essential oils in dark bottles away from heat and light. They will keep for years under such conditions. The only exceptions are citrus oils, like lemon, orange or bergamot, which have a limited shelf life of one year.
*This article is for information only. Uniprix assumes no responsibility regarding the use of essential oils for therapeutic purposes or for any other purpose.
Pharmacy services
If you have questions about essential oils and aromatherapy, talk to your Uniprix beauty consultant. She can help you choose the right products.