Are you bored with your curly locks? Tired of the same old hairstyle? Take the plunge and adopt a new look! You too can have sleek, silky smooth hair. Just follow these few tips and hints to go from curly to straight in a flash!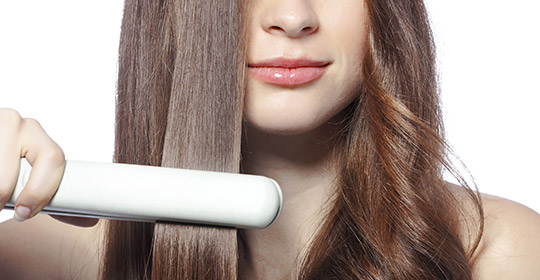 The right tools
Brushes. A round brush (medium or large, ceramic or tourmaline) is perfect for the job. A skeleton brush is also suitable.
Hair dryer. Make sure the one you select is not too heavy (remember, you have to hold it for several minutes at a time!). It should also have a short nozzle, for easier handling when drying hair, and a precision tip. Look for a hair dryer with 1600 to 1800 watts and a strong airflow (quicker drying time = less damage to hair).
Flat iron. Opt for a ceramic or tourmaline flat iron. They distribute heat evenly, straighten hair faster and seal the hair cuticle thanks to its negative ions. Choose an iron with a temperature control (reaching approximately 450°F) so you can adjust the heat depending on your hair type; the thicker the hair, the better it can withstand heat. Remember too that longer hair requires an appliance with wider plates (2 to 3 inches for long hair versus 1 inch for short hair). Clean your flat iron after each use (once it is cool, of course!) using a damp cloth and a few drops of rubbing alcohol to remove styling product residue.
The right products
Smoothing shampoo and conditioner. A gorgeous sleek hairstyle with no flyaways in sight begins with smoothing shampoo and conditioner.
Leave-in smoothing product. Available in cream, gel or mousse, these products are made to be applied on the lengths and ends of the hair – not on the scalp – before styling. If you have finer hair, choose a lightweight product, to avoid weighing down your locks. Ideally, look for a smoothing treatment that also offers thermal protection to shield your hair from the heat of your hair dryer and flat iron.
Anti-frizz products. Various frizz-taming hair products are offered on the market. They come in sprays, creams, serums, etc. Some are formulated to be applied before styling, others after to create a barrier against humidity. Ask your beauty consultant about your options!
The right technique
After washing and conditioning your hair, towel dry it, without rubbing.
Gently untangle your hair with a wide-toothed comb.
Distribute a dime-size amount of leave-in smoothing product throughout your hair, avoiding the roots.
Divide your hair into sections; secure the top sections with a clip.
Begin straightening the bottom sections:

Using a round brush and a hair dryer with a precision tip, dry your hair, lock by lock.
Aim the tip of the hair dryer toward the ends and wait a few seconds to thoroughly dry each lock.
Finish styling the section with the flat iron.

Repeat the previous steps for the upper sections.
Add shine to your hair by applying a bit of frizz-fighting finishing product.
Pharmacy services
Ready for a new look? Drop by your local Uniprix. Our beauty consultants will give you expert advice on choosing the right hair products.
Looking for more helpful health and beauty tips? Interested in receiving special offers? Click here and sign up for our newsletter today!