If you don't feel comfortable heading to the salon, or simply want to save money, here are some tips for successfully doing your hair colour at home with help from PHYTO Paris.
Spotlight on PHYTOCOLOR botanical hair colouring care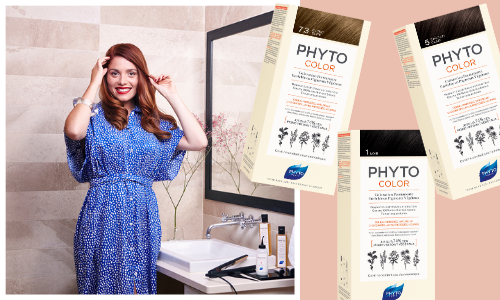 PHYTOCOLOR offers 16 shades of permanent hair colour. This plant-based colouring care contains no PPD, resorcinol or ammonia. It's all good!
To replace artificial pigments and make up the PHYTOCOLOR shade palette, PHYTO Paris has integrated up to 74% of botanical pigments into the colouring base. These pigments ensure 100% coverage of grey hair.
The 16 lustrous PHYTOCOLOR shades are derived from 5 dye plants: 
Alder buckthorn: the tree bark yields a reddish pigment that is used in golden-yellow to cinnamon-brown shades.
Dyer's madder: the roots of this perennial plant contain strong red pigments known as "madder lake."
Coreopsis: the stalks of this flowering plant contain orange-yellow pigments.
Dyer's broom: orange-yellow pigments are extracted from the flowering branches of this shrub.
Logwood: this tree can grow 15 meters tall. Pigments are extracted from the wood of the trunk and largest branches and are used to make dark colours. Combined with madder, logwood creates beautiful brown shades.
Start off right
When choosing your hair colour, match your current shade to the "before" shade on the box. Then, choose a desired colour that's within two shades of that. Don't try to create your own custom shade by combining two colours – leave that to the professionals!
PHYTOCOLOR Pro tip: For coloration newbies, remember to shop for 2 colouring kits. You may need more than 1, especially if you have long hair. For touch-ups and future colourings, one kit is all you'll need! 
While you're at the pharmacy, pick up other hair colouring essentials: a mixing bowl and brush, hair clips, plastic gloves, and a stick of lip balm. We'll explain how to use them, below.
From start to finish, follow all the manufacturer's directions to the letter, including the strand test. The test will help you make sure that you picked the right shade and that you won't have an allergic reaction to the product.
Keeping it clean
Hair colour doesn't just stain hair – it can also make a mess of your counters, clothes, hands, and more! Cover your counter with a plastic bag or newspaper, wear an old robe, and use an old towel that you don't mind staining. Before you colour, protect your skin by applying a clear solid lip balm along your hairline and around your ears. Wear gloves while you colour and keep them for when you rinse out the dye afterwards. Use facial cleansing wipes to clean up splatters as they happen.
STEP BY STEP
PREPARE
When you open the PHYTOCOLOR kit, you will find:

The Colouring Cream, according to the selected colour.
The Developer Milk, a magic potion full of ingredients to take care of your hair.
The PHYTOCOLOR Mask, to nourish your hair and boost the effect of coloration.

To prepare the hair dye, simply pour the Colouring Cream into the Developer Lotion Bottle and shake well.

 
APPLY

Section your dry hair into 4 to 6 sections with hair clips and apply the product one section at a time. You can either use a bowl and brush to apply the dye or use the applicator tip to squirt the product onto your hair.

 
WAIT

If touching up a grown-out colour, begin at the roots, let develop as indicated, and then comb through the rest of your hair to distribute the product evenly. Use two mirrors to make sure you didn't miss any spots in the back of your head!

PHYTOCOLOR products: The required application time for dye is 30 minutes. However, if your hair is mostly grey, then you'll have to wait for 45 minutes.

 
RINSE AND EMULSIFY

Don't twist up your hair while it sits, or the colour may turn out uneven. Before rinsing out the colour, use a bit of water to emulsify the dye and move it all around. Rinse thoroughly until the water runs clear.

Professional PHYTOCOLOR tip: Preferably rinse your hair in the sink. This will avoid dirtying the shower and pigments getting on your skin. When rinsing, emulsify the colour and use the colour protecting mask within the kit, to enhance the shine!

 
HYDRATE
After rinsing thoroughly, apply the mask—we suggest PHYTOCOLOR's—on the lengths. It will nourish your hair and give an extra boost to your colour!
If you need help choosing the right product for your hair, your pharmacy cosmetician will be happy to assist you!